June 20, 2021
Introduction To ACP Sheets
,
,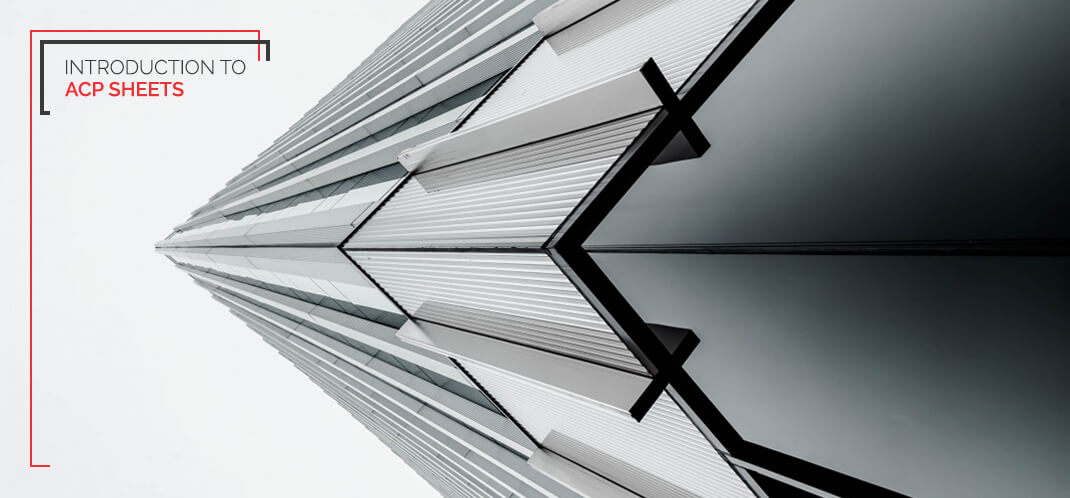 The decor of space is a reflection of one's self and personality. With the dynamic nature of style and fashion, everybody wants to stay up-to-date with the progressing world. The material we want to introduce to our readers today speaks of many such qualities in its favour including Stylish, Sturdy and Lightweight, among others. We are talking about ACP or Aluminium Composite Panel created by compounding a middle layer of non-aluminium core between the top and bottom layers of a thin sheet of aluminium. ACP panel sheets can be further coated with PVDF or Polyester paint.
This modern material features plenty of practical and technical advantages. It comes with a total thickness ranging from 3mm to 6mm including the adhesive layers and glues.  Since its introduction in the architectural domain, ACP sheets have changed the interior and exterior outlook of many structures lending them a striking perspective.
Characteristics of  Aluminium Composite Panel or ACP Sheets
Aluminium Composite Panel or ACP is a new age material with ever-growing demand in the building construction industry. The material offers a widening range of options to builders and architects considering its various usages. Here are a few features of the ACP Cladding Sheet.
1. Durability: ACP cladding sheets are weatherproof, stain-resistant and highly durable. The panels retain their colour, shape and size even after exposure to sunlight and weather changes making them ideal for all seasons. They are also soundproof allowing a sound deduction from the outside environment.
2. Safe to use: Since aluminium is a very good heat insulator, the ACP panels are fire-resistant. They do not discharge gases and fumes proving to be safe for internal cladding as well.
3. Budget-friendly: Aluminium Composite Panel is one of the most cost-effective and economical materials available in the market. They are readily accessible with lasting durability, presenting a perfect answer for a commercial establishment. According to experts, ACP sheet feature high-quality thermal comfort, reducing energy consumption and thus your electricity bills. They can be used in various shapes and sizes minimizing wastage.
4. Hassle-free installation: The ACP cladding sheets are easy to install and are undemanding. They can create some extraordinary designs, which can be either difficult or impossible to recreate with other materials.
5. Easy Maintenance: ACP cladding sheets require low and hassle-free maintenance and preserve the formation and texture for a long duration. A simple wipe with a cloth can remove the dirt or dust particles from its surface.
Advantages of Using ACP Sheet:
The ease of use and great adaptability of the aluminium composite panel gives it plenty of advantages over other materials available in the market. Following are some of the major advantages:-
The panels own quality of lightness of weight, durability, rigidity and strength.

Another added bonus is its strength-to-weight ratio.

The ACP sheets, as per your requirement, can be cut in various sizes, thus providing high material adaptability.

Aluminium Composite Panels with high-quality PVDF coating ensures anti-corrosion and anti-chalking qualities. It also protects the material from colour fading and stains.

Virgo Alfa, a type of recently launched Advance Aluminium Composite Panels comes with PVDF coating as well as the revolutionary AFT Technology making it fire-resistant and weather-resistant respectively.

These advanced ACP sheets feature perfectly even surfaces without any deflection or distortion and are breakage resistant resulting in a highly durable material.

Virgo Alfa is a very light and strong cladding material, thus reducing the dead weight of a building structure making it load free.

These panels are simple to install and maintain and are easily recyclable and therefore, eco-friendly.

Aluminium Composite Panels provide excellent thermal and sound insulation.

They are also weather and UV resistant.

Lastly, these panels are available in a variety of colours and finishes including from standard colours to high gloss, matt and metallic finishes.
Application of ACP Sheet:
Aluminium Composite Panels are one of the most efficient material options with an extensive number of usages. Today, ACP is an important part of both interior and exterior decor of buildings such as hotels, hospitals, metro stations etc. ACPs are used for
External and internal architectural cladding of commercial buildings and corporate houses

Cupboards, wardrobes and modular kitchens

Insulation

False ceilings

Wall paneling

Machine and equipment coverings

Signage and signboards

Container Construction
ACP panel today dominate the façade industry with an element of creative liberty. It serves as a designer's delight, lending a modern and chic touch to any space. They are not only economical and nature-friendly but an intriguing material that is set to revolutionize interior designs.
With its strengths and qualities, we welcome you to the shining world of Virgo ACP, a perfect solution for embellishing the exteriors and interiors cladding of a building structure. Apart from being uniquely elegant and modish, Virgo ACPs are very affordable and durable. Suiting every taste and palette, Virgo offers a vast array of colours, designs and surface options of the high-quality aluminium composite panel or ACP for your space.