March 10, 2021
Top 5 Materials To Build Modern Kitchen Cabinets
,
,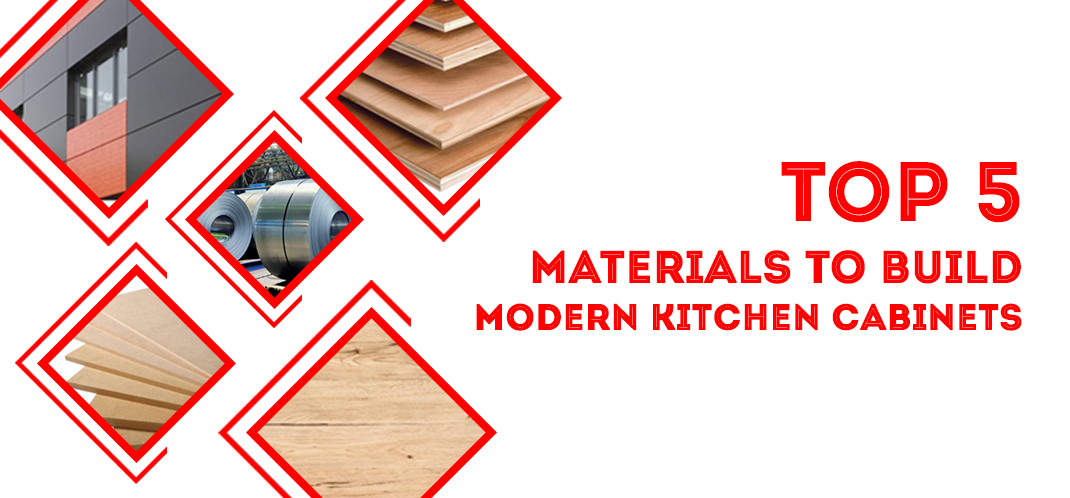 Ever thought, what matters the most in homes. Yes, it's the kitchen. The kitchen is what governs the energy of homes and keeps all members bonded, happy, and energized. In the kitchen resides the soul, and that makes the home function smartly, smoothly, and gracefully. And, this makes a spacious, functional, operative and elegant kitchen, a must serve the entire family in time, conveniently and comfortably to their delight. As nowadays the kitchens are just not meant to cook, bake, or store bare necessities, as they use to happen years ago, but nowadays they are meant to house all groceries, cooking wares, serving wares, utensils, appliances, and other utilities/kits that help to run the kitchen. Therefore, the kitchen should just not be modular but modular with properly planned cabinets, designed in line with the specific requirements, right material and tasteful artistry to make cooking a perfect delight.
What are the critical aspects to be kept in mind while designing the kitchen?
Here, for the present discussion, we will keep ourselves limited to the cabinets and drawers only; however, for other details, you could please refer to our other blogs in the same series. The Kitchen cabinets should be spacious and accommodatable as per the various material and gadgets required to be stored with perfect operational doors, opening completely, without fouling, striking or overlaying with each other. They should be with the right material depending upon the specific utilization of the kitchen as per the particular household need. The material should be selected considering the utility, aesthetics, longevity and robustness to keep the drawers and cabinets functional and useful for the decades to come. A nicely planned and well-designed kitchen can become a complete failure in case it is not constructed with the right material; it should be.
So, what are the top 5 materials used nowadays to build the Modern kitchen?
The modern kitchen has undergone a vast innovation and a complete revolution when it comes to designing, planning, selecting and building a fully operational kitchen with the right material. It's the selection of the right material, which is the king and makes the kitchen efficient and fun to work in. Let's explore the top 5 materials used in building modern kitchens.
1) Stainless Steel 
Stainless Steel was in vogue earlier and provided a contemporary look to the kitchen. They are the best fit for industrial kitchens, where large-scale cooking is a regular feature and are subject to rough and tough handling. The stainless-steel cabinets are resistant to moisture, termite and other spills, which otherwise leads to swelling or wrapping in case it is made up of some other material. They are best to revamp the kitchen and are available in shiny, matte, or textured finish to select from.
2) Wood
Wood is usually chosen for kitchen cabinets and drawers considering their economical price and quick installation to spruce up the kitchen. With several textures and numerous colors to select from as per the specific taste and aesthetics of the kitchen, it is the most preferred material when it comes to going for a style with some traditional taste. No doubt, the hardwood is best to protect cabinets from stains, dents and scratches, but are prone to wrapping and resizing because of moisture and other dampness, which are a must in all the kitchen. Hardwood cabinets, however, are less recommended because of their expense and non-environment-friendly nature.
3) Plywood:
Plywood is not the core material of the cabinets. They are layered on the wooden boards to add to the aesthetics, beauty, appeal, and versatility of the kitchens. The plywood is the wooden boards layered together and bounded by pressure and heat. They are the first choice of carpenters because of their highest strength-to-weight ratio. They are different from hardwood on the grounds of their being moisture resilient besides resisting sagging and dents.
4) MDF or Medium-Density Fibreboard:
The Medium-Density Fibreboard is a composite material made up of recycled fibre, wax and resin, which is sealed together under high pressure. As it is heavier and denser than plywood, it is many folds better and durable than it and lasts longer. The MDF doesn't expand, contract or even wrap when subjected to temperature changes or higher temperatures as hardwood cabinets usually do.
5) Aluminium Composite Panels
The Aluminium Composite Panel (ACP) are made up of aluminium composite materials (ACM) that are typically flat panels, which consists of two thin coil-coated aluminium sheets that are bonded to a strong non-aluminium core. ACPs have found their utility in external cladding and facades besides for insulation and signages. They are available in several colors, shades, textures, and finishes like sand, wood, stone and many more. They can be easily turned, bent, folded and shaped into different forms as per the utility and design without any constraint. Their flexibility to shape and develop made them the first choice of all the architects, carpenters and interior designers to use them in the entire kitchen. As it provides better designing liberty, it has become a perfect designer's delight. Conclusion: It will not be wrong to say that it's the kitchen that transforms a house into a home, and has to be planned and designed judiciously using the appropriate design, style and material. Aluminium Composite Panels are the best material to be used for modular kitchens owing to their flexibility, durability, fire-resistance, moisture resistance and various choices available in it.