April 5, 2022
7 Frequently Asked Questions about the largest laminate brands in India: Virgo Group
,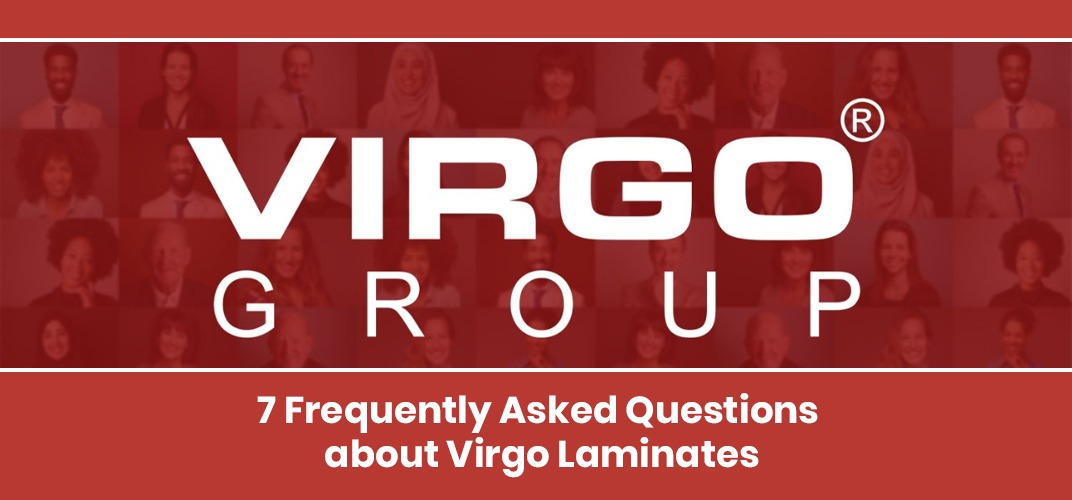 "Answering some of the most frequently asked questions regarding one of the largest laminate brands in India: Virgo Group through this blog."
Virgo Group is a well-renowned brand across the globe. Our mettle in the construction, interior decor, and architecture sector requires no elaboration. Virgolam aims to provide its clients and customers with products of exceptional quality that are built out of technological innovations with sustainable means. Virgo Group has already solidified itself as one of the largest laminates brands in India, but our customers seek some common clarifications regarding our brand.
Today, through this blog we answer the 7 most frequently asked questions (FAQs) about Virgo Laminates:
"How big of a brand is Virgo Group?"
Virgo Group is the world's largest multinational manufacturer, distributor, and marketer of various home decor products. We have an industry presence of over 29 years. With over 3000 employees across 11 manufacturing plants, the testament of the production of our products is up to the mark in both quantity and quality. Trusted by over 650 distributors and 21000 retailers, Virgo Group stands at the pinnacle of the biggest laminate brands in India.
"What products do Virgo Group make?"
Among the various home decor products, Virgo Group is well known as Asia's largest manufacturer of Laminate products. We manufacture products of utmost quality like Laminates, ACP (Aluminium Composite Panel) sheets, PVC (Polyvinyl Chloride) Sheets, Plywood, Door Skin, Aluminium and Pharma care as a part of Higgs Healthcare. Our monthly production capacity is 30Lakh Sheets for Laminate, 8000 tons for Aluminium, and 30Lakh sq. ft. for ACP.
"What are the applications of Virgo Laminates?"
Virgolam products carry a widely diversified range of applications with them. Virgo Laminates has a broad range of catalogues that is sure to redefine the aesthetics of your space from walls to furniture. Some of the major applications of Virgo Laminates are:
Furniture

: With the unique and elegant designs available in Virgo Laminates, they are used to make premium quality furniture like beds, sofas, tables, cupboards, etc.

Decorating Walls & Ceilings

: With the modern decor trend emphasising unique aesthetics, Virgo Laminates provides you with all sorts of quality textures from matte, wooden, metal, etc. to decorate your walls and ceilings to improve the space of your aesthetics.

Modern Cabinets

: Wooden cabinets are quite susceptible to wearing and tearing therefore Virgo Laminates are the best way to be applied to them to not only improve their aesthetics but their longevity as well. 

Modular Kitchen

: Modular Kitchen is something that is becoming quite a trend among the general audience and Virgo Laminates are the architect's primary choice to be used in designing modular kitchens. Not only do Virgo laminates consist of a wide range of designs and shades but they are also safe and sound to protect against kitchen hazards like stains, scratches, fingerprints, borers, termites, etc.
"What are some of the technological breakthroughs of Virgo Laminate?"
The foundations of Virgolam are built on technological innovations and quality. We use our state-of-the-art technology to come up with new ideas in order to revolutionise the sector we serve in. Some of Virgo's technological innovations are states below-
Urea Free: Every Virgo Laminate is phenolic that is 100% urea-free. That affirms that our laminates resist moist and humid conditions.
Greenguard Gold Certification:

Virgo is one of the few companies in India that are honoured with Greenguard gold certification stating that our laminates completely resist the formation of formaldehyde gases upon installation.

Anti-Fingerprint:

Virgo Spotless Laminates are technologically crafted to avoid the regular sticking of fingerprints and remain a smooth spotless layer on the surface.
"Are Virgolam products environmentally friendly?"
At Virgolam, our products are ecologically processed using natural raw materials, producing low emission, durable quality, easily recyclable, and disposal solutions. We continue to implement methods for sustainable ways of manufacturing to ensure that our customers and end consumers receive products that have minimal impact on the environment. The entire manufacturing process of Virgo integrates green activities on all levels, products & systems while making sure we make the best use of three Rs – Reduce, Recycle & Reuse.
Read in detail about what Virgo does to ensure environmental sustainability. 
"In what countries and cities are the products of Virgolam available?"
By already being at the forefront of providing quality decor and architecture products in India, Virgo has solidified its roots in countries like the USA, Singapore, Malaysia, Thailand, Africa and Others. With over 32 domestic and 4 International branches, we supply our products in over 50+ counties.
"What are the long-term benefits of working with Virgo?"
At Virgo, we are firm believers in the mutual growth of people who are our partners. Anyone who joined Virgo Group as a retailer, distributor, or Contractor considers them as a part of a family where we help their business grow substantially. Virgo's significant presence all over PAN India enables us to serve our clients quick and fast, as we aim to build long term business relationships with our dealers and distributors. With our wide range of products in the field of interior designing and construction sector, our pricing is considerably competitive in the range of sectors as we aim to provide Virgo products for people across India for everyone.  
Virgolam aims to become the worldwide most trusted brand in the sector of home decor & architecture and we know that this can only be achieved by providing products and services of the highest commendation. The team of Virgo Group is adamant that we will reach our goal sooner than expected with our hard work, integrity, and commitment.