August 31, 2021
Why your Corporate Building is crying out for Aluminium Composite Panel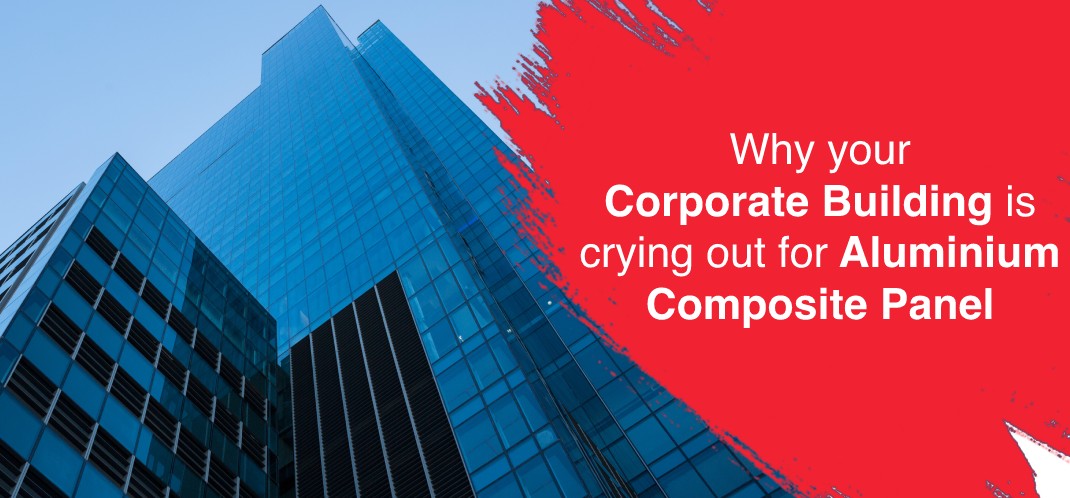 What makes Aluminium Composite Panel (ACP) popular in architecture designing and why it's a necessity for corporate buildings? 
"The first impression is the final impression"; That phrase may be subjective in personal life but, not when your aim is to exude the most corporate impression. When it comes to corporate space, you could spend all the fortune on interior designing but eventually, it is your exterior that will always have the responsibility of carrying your initial representation.
This is where a Virgo Aluminium Composite Panel (ACP) is what you desperately need for your building facade. ACP sheets are the epitome of the brilliance of modern architecture. Its applications transcend beyond the simple need for creative exterior looks, it suppresses various safety hazards, offering long-term durability, while being installation-friendly, and best of all, cost-effective.
Let me expound on the complete brilliance of the Virgo Aluminium Composite Panel (ACP) as follows;
Creative output of Aluminium Composite Panels (ACP)
There's a good reason why 98% of Architectural projects always involve the use of ACP. The rest of 2% probably takes place on Mars. ACP is a highly malleable product, which is able to keep its natural sturdiness no matter what or how many mechanical workshop operations it undergoes.
Rest assured, Aluminium Panels come in all shapes, sizes and colours. It is available in textured finish in a way to give the aesthetic feeling of natural wood or stone. To architects, working with ACP is like putting together the pieces of a jigsaw puzzle compared to going to war with other building facade materials.
Environmental Resistance
Aluminium Panels are highly resistant to nearly all environmental hazards thus offering a meticulous protective layer to a building. Its physical composition remains to adhere to summer heat, monsoon rains or any other physical, chemical or biological environmental hazard. ACPs can withstand the range of -50°C to +80°C temperature.
The corrosion-resistant nature of Aluminium makes ACP a must-use facade for buildings located in extreme areas. In addition, they are also UV resistant. 
ACP are also noise-isolant, making sure the interior of the building remains isolated from noise pollution. They are also eco-friendly and can be recycled easily without losing their integrity & quality. 
Insusceptible to Safety Hazards
Every workplace would always be at risk of some type of safety hazard. We have already discussed how ACP is resistant to heat & other environmental damages. The most common workplace hazard is fire safety and this is where the nature of Aluminium thrives.
Since Aluminium is a non-flammable material also available in FR, Class B, Class O and Class A2, it makes ACP Sheets an immense fireproof option. It can withstand up to 600°C without the risk of catching fire for hours depending on various Aluminium Composite Panel manufacturers. 
ACP could be used for fire safety from the smallest of buildings to the tallest of skyscrapers and keep the structure fireproof.
Easy Installation & Maintenance-friendly
Aluminium Composite Panels are extremely lightweight in comparison to other sheet materials. Its flexibility and weight make it extremely easy to install without any complications. Transportation of ACP to construction sites is cost-effective, time-saving & done without any hassle. 
On the plus side, the ACP maintenance need is nearly non-existent. Due to it being highly resistant to various safety & environmental hazards, the cleaning process is fairly easy and only needed about a couple of times a year, depending on the location of the building. Moderate water rinsing & wiping with a clean cloth is all that's needed to wash aluminium panels. 
Cost-Effective option
What makes ACP the best in the market is its cost-effectiveness. Its sturdiness, flexibility, and damage resistance make it the most sought-after sheets in the manufacturing industry. From its hassle-free transportation to easy installation to low maintenance, ACP is the best option among other building facade materials in comparison. 
Various other Applications of ACP
The applications of Aluminium Composite Panels aren't limited to building facades at all. The foundation pillars of high-quality bridges are cladded with ACP to give them an extra layer of damage protection. The same is also done on various furniture so it could match the aesthetic of interior house design. Marble & Wooden texture-finish ACP Sheets are also used in the interior of museums or government buildings.
The most commonly sought interior application of ACP sheets are in designing modular kitchens. Not only does it enhance the aesthetic of the kitchen, but it is also used to clad all the cupboards and drawers because most cookware vessels are susceptible to corrosion & dirt. 
Where Virgolam stands among the Aluminium Composite Panel Manufacturers in India
Virgolam; we are one of the leading Aluminium Composite Panel Manufacturers in India. We offer premium quality ACP panels in visually striking textures. Suited for external sheets, interior applications, the panels by Virgolam create a visual aesthetic that enhances the appearance of any space. Highly durable, stain-resistant, and weatherproof, these ACP sheets are the epitome of our creativity & hard work.