January 13, 2021
Why Are High-Pressure Laminates (HPL) Outshining Other Alternatives?
,
,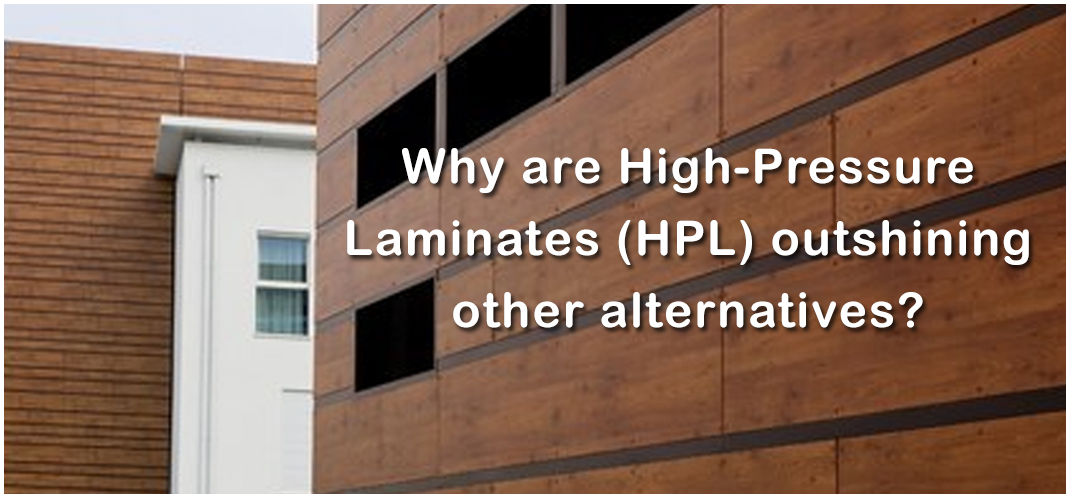 High-pressure laminates (HPL) have evolved as the most sought-after alternatives to be recommended by architects, interior designers, decorators and engineers around the world. Their flexibility, durability besides fire retardant and chemical resistance properties has made them the ideal choice for all establishments from residentials to commercials. Herein, we will be exploring the various USPs of these HPL sheets that made them superior to their peers.
What are High-Pressure Laminates?
The High-Pressure Laminates are composed of three different materials to attribute their different properties. It comprises resin-impregnated Kraft paper, decorative paper and an overlay paper-like clear melamine bonded to some Medium-density fibreboard (MDF) or other particle boards under high pressures and temperatures. HPL sheets are generally manufactured with 60-67 % of paper and 30-40 % of thermosetting resins. The overlay paper improvises its abrasion and scratch resistance while the decorative paper provides it with the required aesthetic appeal. The kraft paper provides it with the necessary thickness and acts as a core material. The High-Pressure Laminates are going to sustain their center stage in the years to come.
Where are they commonly used?
The HPL sheets are popularly used in furniture, kitchen shutters, wall panels, countertops, cabinets and other furnishing materials where durability and cleanliness are of prime importance in addition to other generic attributes.
Are they good for customised designs?
HPL sheets are preferred over their other counterparts owing to the flexibility they provide in customising innovative designs. They are available in all different hues of colours, textures, patterns and shades that provide it with the richness in its look and the classic touch that adorns all different types of living spaces, which have wall panels, furniture and cabinets as their essential part.
What type of flexibility they provide?
HPL sheets are exceptionally customisable and remarkably flexible in addition to their easy workability during installation. Even unskilled people can conveniently install them after a few days of training. They do not demand any special education, technical skill or professional knowledge to start working with them. Their flexibility to bend unbreakably to any extent is a real boon to the interior designers, as it provides them with a vast opportunity to take their creativity to the next level while manifesting innovative designs.
How to do their maintenance?
HPL sheets are broadly maintenance-free and can be easily cleaned and maintained without any special effort or procedure. A simple cleaning by a dry clean cloth or wiping by a wet cloth followed by a dry cloth wipe is sufficient to make it shine and work for years without complaint. In case it got a minor stain or some other major stubborn spot, a simple liquid cleaner and some sponge or a cotton cloth will do miracles to bring it back to its original new-like look. HPL sheets this attribute provides it with a definite edge over its other counterpart overlays, which cannot be cleaned after an extended period and always leave some spots.
Do HPL sheets provide a better user experience?
Yes, HPL sheets provide a better user experience as they are highly thermal resistive and do not allow smooth heat transfer between them and the nearby surroundings. Their thermal insulator properties prevent them from getting too cold in summers and too hot in winters. In other words, whether it is summer or winter, they maintain their stable temperature and remain unaffected by surrounding changes. Their capability to neither get too cold in winters nor too hot in summers has made them the best overlay to provide a better user experience in comparison to other surface materials like granite, tile, or marble, which undergo rapid temperature change as per the surrounding temperature.
What about their price?
HPL sheets, beautiful and stylish looks with a perfect aesthetic appeal and that too at such a low and reasonable price have always gained people's attention and fascinated them to go for them. They provide a perfectly vibrant and enigmatic ambience at all the locations, wherever they are installed irrespective of their hue, colour, texture, or shade. The HPL sheet price is the lowest in comparison to other alternative solutions. In addition to its maintenance-free usage and elongated life, it just cost half in comparison to other available materials used in similar applications. It is low on both the material cost and the installation cost besides zero maintenance cost.
What are the main USPs of using these HPL sheets?
As HPL sheets are resistive to chemical, fire, scratch and other abrasions they are superb to be used at environmentally and physically rough and harsh places, which are regularly subjected to abuse, abrasions, rugged applications and more robust experiences. In the present innovative world, they are considered as the most durable surfacing material to be used in almost all locations. As they are anti-bacterial in nature, they are therefore preferred in areas prone to microbial growth because of dampness and stagnation.
What is their average life span?
HPL sheets are built to last longer and remain intact for at least a decade or so. Due to their superb qualities, they are highly resistive to severe and harsh environmental conditions.
What are other precautions one should follow while using them?
To clean them, they are generally wiped with a clean, dry or wet cloth. In case of stubborn spots, mild home cleaners are generally used to make them stain-free. After cleaning with mild cleansing agents, they are gently wiped with a dry clean cloth. Heavily chlorinated, acidic, or alkaline products are a big no to use over them owing to their harsh properties and destructive nature. Wax polish is also not allowed over it, as it is good at attracting dust and dirt, which leads to a sticky surface over it.
What is the level of customisation it can undergo?
HPL sheets are open to customisation as per one's imaginations and aspirations, to the extent one can dream of. They can be conveniently customised to any artwork, images and other designs. Depending upon the budget and scale of the requirement, one can tailor-made them to have a different thickness as per the application.
Conclusion: 
With ample scope and a myriad of advantages and other benefits like heat and abrasion resistance, easy and quick installation, zero maintenance, amazing flexibility and ease of handling they are commonly used in restaurants, hotels, hospitals, Cinema halls, homes and other commercial places of significant importance. Virgo, an established group, manufactures world-class HPL sheets with the latest cutting-edge technology at their state-of-the-art manufacturing plant using the world's best material. Their HPL sheets are strong, sturdy and rugged to face harsh environmental conditions. They provide great ambience and aura to the nearby surroundings. The Virgo High-Pressure Laminates are renowned for providing timeless beauty to the various fittings they have installed in like hotels, offices, residences, complexes, schools, universities, hospitals, clubs, recreational centres, or others. Their HPL sheet price is just unbeatable in the market.