February 28, 2019
Virgo: An Unsurpassed Sunmica Manufacturer in India
,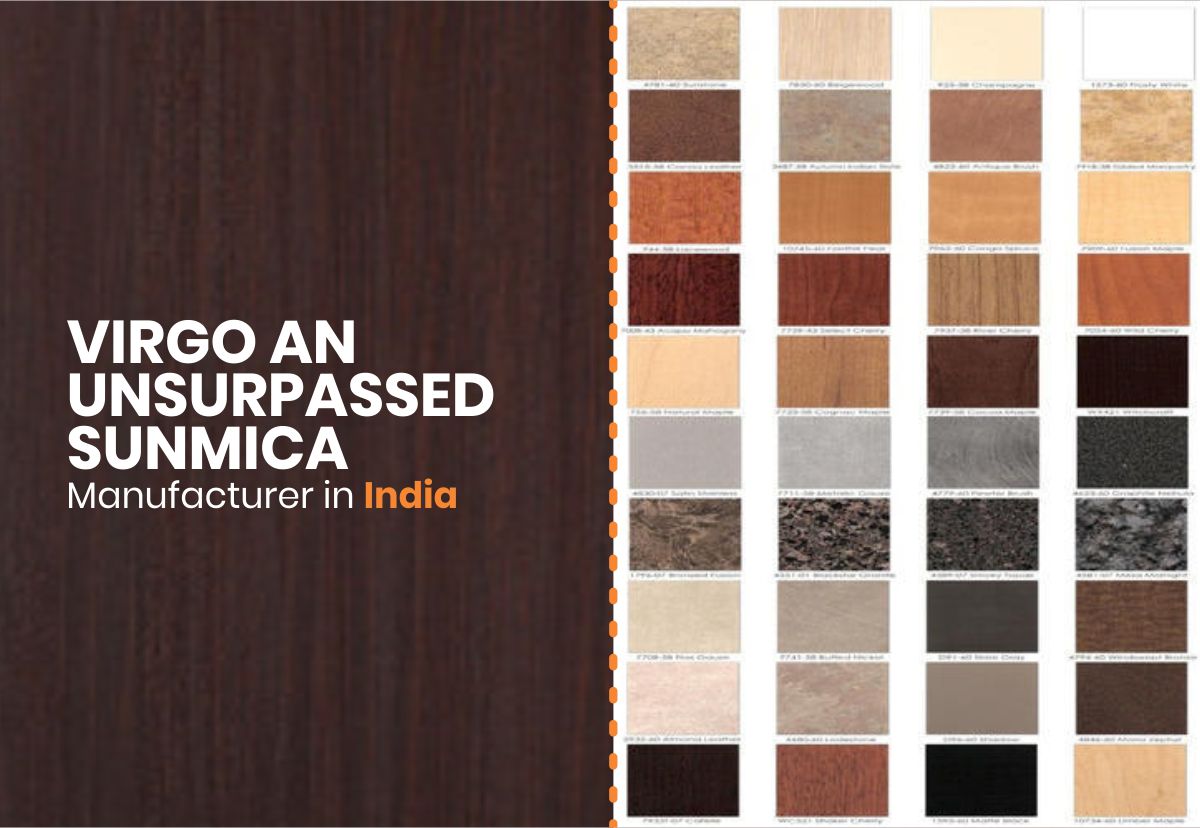 Everyone dreams of decorating his/her home or office in a particular way, and no two dreams can be the same; so, it's important to find the right products to turn those dreams into reality. Virgo Group is the one-stop-solution for all your sunmica needs. Our Company is known for trust, legacy and quality sunmica laminates. We are a commitment to quality, and sheer perfection has helped us carve a niche and become the best sunmica manufacturer in India.
A Name to Conjure with!
Driven by the passion to excel, we, at Virgo Group, offer optimum quality sunmica products that can easily withstand stringiest of quality tests. Our commitment to keep abreast of the latest advancements and to deliver nothing but the best has earned us the ISO 14001 certification. Virgo has become a name to conjure with among sunmica manufacturers in India. We have garnered the support of satisfied customers and suppliers because of the following features of our sunmica products:
Distinctiveness: We, at Virgo, don't offer regular products that customers might get in every other shop; rather we provide a unique collection of sunmica products in varied colors, textures, patterns and designs. Thus, making our customers proud owners of beautiful homes or amazing offices that are strikingly different from anything that anyone has seen.
Quality: Our Company is known for high-quality sunmica laminates, and we take stringent measures to ensure that quality is not compromised. From procuring raw materials to delivering finished sunmica products, every single step is monitored by a team of quality experts. Our experienced team members ensure that our customers receive only the best-in-class sunmica laminates.
Uniqueness: The only constant thing is change. Trends keep on changing and so does the needs of the customers. Hence, our Company invests in new technologies and innovative ideas to offer our latest range of sunmica laminates. Whatever new sunmica product our company offers is in tandem with the latest trends in the global arena. Customers constantly get technologically advanced and innovative products to renovate home, office or other spaces.
Affordability: The sunmica products offered by our Virgo Group are not only durable but also affordable. The sunmica laminates are competitively priced without compromising on the quality. The customers are thus able to get the desired products without the need to spend money like water.
Accessibility: The best is not easily accessible, but our range of sunmica products is an exception. Through our wide distribution network and support facilities in different parts of India, our Company makes it convenient for the customers to get whatever they desire.
Accountability: Our Company offers exceptional service and support to the customers. With integrity and commitment at the forefront, Virgo offers smart sunmica solutions to customers in a hassle-free manner. Our Company values the efficient team and empowers the employees for their betterment and professional growth. Besides, our environment-friendly initiatives help reduce the adverse impact of its sunmica manufacturing processes.
Endless Options to Choose From!
Depending on the requirements, customers can choose from our innovative and unique range of quality sunmica products that are durable as well as affordable. Our Company offers innovative sunmica laminates in an array of colors, designs and textures. Be it the living room's interior layout or the exterior design of any office that customers plan to work on, they will be spoilt for choices here. Customers can conveniently decorate any space as per their aesthetic taste and requirements. They can opt for:
General Purpose Laminates
Flex Post Forming Laminates
Compact Laminates
UV+ High Gloss Laminates
Fire Retardant Laminates
Metal Foil Laminates
Chalk Board
Marker Board
Door Skins
Virgo is undoubtedly the best sunmica manufacturer in India that stands tall because of its commitment to excellence, quality, and innovation.