June 18, 2021
Top 8 Interesting Facts About Aluminum Composite Panels
,
,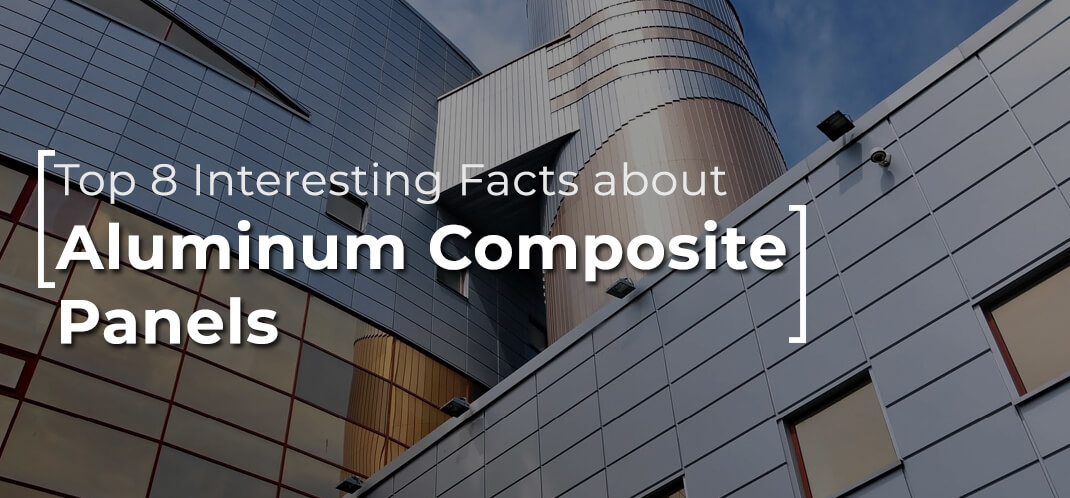 Everyone loves a great first impression, therefore it becomes important to choose the right kind of exterior façade material when it comes to making your buildings and homes look attractive. ACP sheets are designed in consideration to make your homes and offices look aesthetic. An appealing ACP Sheets façade not only increases the value of your premise but also sets the tone. Let's discuss the most common uses of ACP Sheets:
Cladding: ACP sheets are so designed to bring shine to the exteriors of your buildings and offices. ACP sheets come up in a great range of designs and patterns which provide a futuristic look to your High Rise Buildings, Bungalows, Mansions & Big or Medium Sized Commercial Places (Shops, Offices, etc.). ACP Sheets by Virgo Group are acknowledged for their Elegant Designs, Excellent Finish & Abrasion Resistance.
Signage Boards: ACP sheets are used for making the attractive-looking signs of the villas, apartments as well as offices. Moreover, ACP Sheets can be used in Hoardings. For instance, you can generally find hoardings of Xiaomi, Samsung, etc in the shops. Hoardings, Roadside sign boards & OOH promotions are used for outside applications and it is required to withstand the weather changes. Therefore, ACP Sheets is the best choice for it.
Other Applications: ACP Sheets can be used for the covering of Pillars, Ceilings, Office Partitions & Furniture. It can also be used for other kinds of interior & exterior application requirements like facial panels, column covers, display units, canopy, etc. Moreover, the Wooden & Marble finish ACP Sheets collection is used in Bungalows, Gates, Louvers, pergolas, etc
Let Me Elucidate the 8 Interesting Facts of ACP Sheets…
Fire Resistance:




Many ACP sheets come up with FR Grade feature which means they are fire-resistant because in FR ACP a mineral core is sandwiched between two layers of Aluminum. If the Aluminum itself already FR proof and it doesn't catch fire up to 600 degrees Celsius. Our FR ACP core is made up of minerals that resist fire ranging from 30 minutes to 5 hours, depending upon the requirements. The fire resistance property of ACP sheets helps to ensure that these sheets are up to code for use on everything from houses to skyscrapers.

Environment Friendly:




Aluminum Composite is the most sustainable, eco-friendly material and one of the most recyclable materials on the planet as the Aluminum that has been extracted from the sandwich panels can be easily recycled without any loss of value or quality. ACPs take active parts in solar heating and energy-saving systems that make it energy-efficient, sustainable and environmentally friendly. There are chances that the panels which you are using for your construction purpose, may be constructed from recycled materials, or at least some part of those panels are constructed from recycled aluminum. Many panels may contain more recycled materials. But whatever the case may be the leftover pieces or full panels which are getting replaced can be easily recycled.

Lightweight Material:




The weight of any kind of construction material helps drive up the cost of the overall operation of construction. The reasons maybe it requires some special equipment or multiple vehicles to transport that heavy material to the construction site. And once it got there then it will require more workers and a longer time to move and install each piece.
There lie some alternatives for the aluminum composite panel for siding and signage i.e. wood, vinyl, and fiber cement but these materials are very heavy. ACP panels are lightweight alternatives for these materials.

Sturdy Physical Properties:




Aluminum Composite Panels or ACP Sheets come up with robust physical properties which make it the perfect cladding material for the façade or exterior of any building. Moreover, the ACP sheets are corrosion resistant which means they can withstand the effects of weather changes.
ACPs can also withstand the range of -50° to +80° Centigrade temperature. In addition, ACPs are also known for having great heat & noise insulation properties that significantly keeps the building cooler and quieter. ACP sheets are UV resistant also giving them longevity.

Come in a Variety of Colors:




Composite panels can be produced in many colors and styles. So you can choose from a variety of Copper, Zinc, and Brush Colors that can match the specific color & design style of your business. The Zinc Colors further include Quartz, Anthra, Pigmento Blue, Pigmento Red, Pigmento Orange & Pigmento Grey, etc. The latest shades of Wooden ACP Sheets are Sharun Teak, Macassar Light, Crotch Burl Light, Joburg Knotty Grey, Heartwood Biscotti & Apuan, etc. So basically you have an array of choices when it comes to choosing a perfect color for your exterior or interior.

Modern and Stylish:




ACP or Aluminum Composite Panel, "The beaming range of exterior facade material" creates a modern and stylish look of the exterior of the building. The trendy styles include: blocky designs with flat roofs for double stories and some unique shaped render looks for single designs. You can make a statement with alluring designs of facades material like the ones with Virgo. You can also try to use some different colors than substantial ones to give it a unique look.

Customizable:




ACP sheets allow the architects to show their creativity in a better way. It is possible because of the easy customization & routing properties of ACP Sheets. Due to superior routing properties, it can be bent in any shape such as concave or convex, diamond, dome, etc. Moreover, ACP sheets can be painted in many different colors with the finish and texture to imitate natural inspirations like wood bark or natural stone.

Modern and Classy:




There are some popular modern choices you can avail in ACP sheets which you can add just a touch of to give the exterior of the building a more updated look. You can stand out from the crowd when you choose something which is a bit different and a little more versatile. These qualities make your exteriors look classy. From premium to classy people everyone is using the best of ACPs nowadays.