March 12, 2021
The Principles Of Vastu Shastra, Colors & ACP Sheets
,
,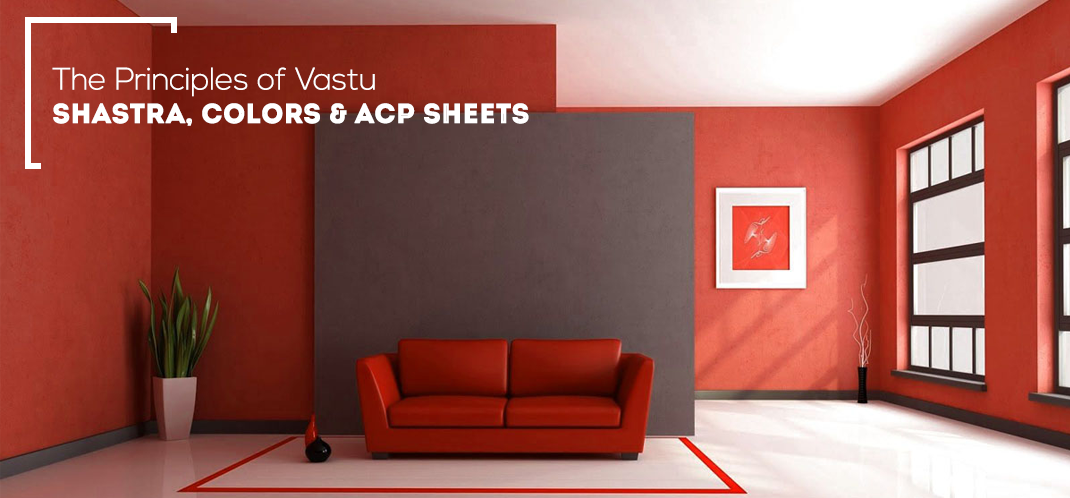 With the modern time, to match up our shoulders with the modernity we all love to design our home in the best way possible. And as the modernization increases, we also move towards new, fresh ideas with brand new concepts. The concept of interior decoration is coming out as a new trend and people are getting attracted to these unique ideas for adding a sophisticated touch to their place, including color of interiors, architecture, & carving etc. However, incorporating the best concept and designs in our house also sometimes doesn't help. Several times, we face issues related to our stay that creates discomfort and irritation at the place. Vastu Shastra is considered to be the ancient science of architecture which enhances positive energies in and around people and place.  But, this science got neglected and didn't receive much attention over centuries. However, vastu is considered as one of the main aspects of interior designing in modern times.
Why Vastu is important for your home?
Vastu ensures a prosperous & harmonious living
Vastu eliminates the negative energies & spreads the positive vibes
Lastly, Vastu brings good fortune and wealth
One of the principles of Vastu Shastra says that the color of a house affects the mood the most of the people living in it. From cheerful to sad, anxious to confident, different colors have different influences, such as:
Red Color Interiors –
Red is the color of attraction, love, & romance. Along with red, pink is considered a romantic shade as per Vastu Shastra. It provides activity, energy and willpower. Rosy red or pink shades are most commonly used in the bedroom as they symbolize deep love.
Green Color Interiors –
According to Vastu Shastra, green color is the best-suited interior color for children's bedrooms. Green is the color of Mercury which is the ruling planet of knowledge and learning. This color helps in reducing anger and adapt to new surroundings.
Brown Color Interiors –
Brown is the most favorable color for the bedroom of elderly people. Vastu Shastra defines brown as the color of the earth which symbolizes stability. This color stimulates the feeling of happiness, solidity and satisfaction.
White Color Interiors –
According to Vastu the shades of white are cool and brighten up your space. White is the color that obstructs negativity and compliments the personalities of every resident living in the house. So, if someone wants to create serenity and live in peace, then he/she must choose white color interiors.
Yellow Color Interiors –
According to Vastu shastra yellow color signifies positivity and intelligence. Therefore, it is recommended for the bedroom of the students as well as young professionals. It helps to increase mental ability and bring in joyful thoughts.
Though the ACP sheets were used with hard-core commercial spaces, however with the creative innovation of Virgo Group, ACP sheets now can be used in residential spaces. On the contrary, side, if you use regular paints the house then, it can cause several issues. The paint might result in several health issues including respiratory problems, skin issues, & more. Moreover, the poor or inadequate coating may also incur additional maintenance costs every year. Therefore, the smart solution to this issue is to use ACP Sheets.
How Virgo ACP sheets can beautify your home interiors?
Enhance the beauty of the interiors by providing them with a unique look.
ACP sheets by Virgo come in a wide variety of colors & shades.
Paints that are used in Virgo's ACP sheets are lead-free which prevents health issues.
Lastly, the ACP sheets are long lasting which prevents the maintenance cost.
Therefore, you can create a Vastu-recommended, excellent design for your interiors with ACP sheets by Virgo. As per the Vastu recommendation, you can choose the appropriate color for your interiors from our wide range of ACP sheets colours. The influence of colours can be increased based on the direction in which the room is situated in. If you want to design your room all alone, without the help of a Vastu expert then, the following tips will help you create a Vastu-oriented superior interior.
You need to prefer using the following colors for particular directions:
White – for North-West facing rooms
Green – for North facing rooms
Grey – for West facing rooms
Red/Pink – for South-East facing rooms
Yellow/Gold – for North-East facing rooms
So, go ahead and let the versatile ACP sheets of Virgo set your design trend today…!!!