April 17, 2021
Metal Composite Panels
,
,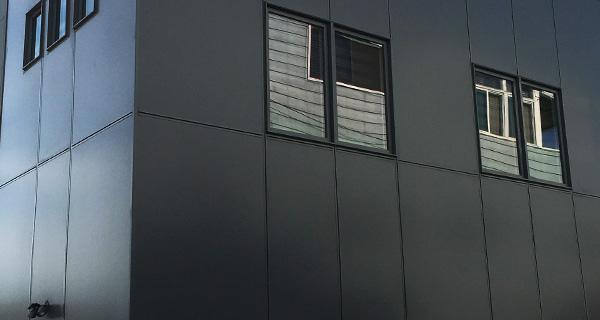 Metal Composite Panels are made up of metal composite materials and are used in the external cladding of buildings. Their free form has made them fit to be used with all shapes, forms, and nature of the buildings, no matter if they are high rise commercials or residentials. They are amazing for use in interiors of buildings, villas, or bungalows too.
Are There Any Shape Restrictions in Metal Composite Panels?
No, these panels can be in shape and can acquire any configuration, whether bent, curved, artistic, geometric, or even weird. And, their this attribute has made them the first preference to go for with engineers, architectures, and interior designers while designing some complex structure in peculiar shape or special application where flexibility is a must and compromise either in material or in shape is a big no.
Unique Properties of these Metal Composite Panels
Lightweight, seamless finish, unmatched flatness, resistance to environmental effects, untouched by climatic changes, and unbeatable flatness are a few of the unique properties of these Metal Composite Panels, which have brought a revolution in the industry with every next person going with them. They infuse life in the buildings and make them attractive, eye- catchy, marvelous, and proud to live. Above all, they can quickly provide a most sought-after 3D look to the façade owing to the flexibility of the ACP sheets.
They provide limitless options and creative solutions for designing and manufacturing walls, columns, facias, and custom curtain walls. Their high strength-to-weight ratio and diversity in surface treatments provide them a unique and unbeatable proposition besides providing them with long-term durability. What you can think is what you can achieve, it's that simple. Now the only limit is in your imaginations, not technology.
The Emergence of Metal Composite Panels
They emerged in the industry, long time back somewhere in the 1960s but took time to gather momentum and acquire the main commercial arena to become the preferred choice of all. Instead, they underwent many developments and innovations to refine its various attributes, such as weather resistance, strength, life, and many others. But nowadays, they are spreading at a neck-breaking speed. Now they are frequently in use in cornices, canopies, etc. as a wall cladding and in other applications as for joining areas between different building materials like precast panels and glass.
So far, so good, but what precisely these Metal Composite Panels are?
Metal Composite Panel is primarily an insulating core with two metal skins bonded on it both sides, making it a sandwich panel. The metal component could be any depending upon the application, and the strength required. The weather conditions and the geographical locations are also too crucial in deciding while selecting these adhering metals. These could be aluminum, zinc, stainless steel, titanium, and many more. Besides, they are also available in a myriad of colors and several finishes like painted finishes, anodized finishes, wood-grain finishes, etc. They are available in several matrix and unique profiles to select from as per the individual requirement.
The core can also be manufactured from different insulating materials to suit all budgets, applications, and customizations. Typically, they are of polyethylene or some free form of fire-retardant material. These cores can have different thicknesses depending upon the strength, longevity, maintenance, and performance expectations.
Advantages of these Metal Composite Panels over Single-layer Metal Sheets
The advantages are numerous like-
Thermal Insulation
Acoustic Insulation
Weather Resistance
Consistency
Maintenance
Longer Life
Light Weight
Limitless options
Better pricing
High Strength-to-Weight ratio
Where are these Metal Composite Panels be Used?
These Metal Composite Panels can be used in a number of places. You name an application, and it can be designed for it. However, we commonly use them at –
External structures
Custom Curtain Walls
Parapet Caps
Fascias
Column Covers
Spandrels
Lobbies
Entryways
Soffits
Joining corners
What About Pricing?
These panels are very affordable in comparison to other available systems. With revolutionary innovations and improved technologies, they have become very cost-effective and are available in close to all budgets, as we can customize them to any level. Above all, they are easier, simpler, and faster to install than precast panels, granite, or brick exteriors. As they are lighter in weight, they demand reduced structural support, or in other words, much can be saved on the structures themselves where we plan to install these Metal Composite Panels.
Virgo Group is a renowned high quality, fire-resistant, temperature resistant, solvent resistant, heat resistant, anti-fade, weather-proof Aluminium Composite Panel manufacturer with more than ten years of time-tested, proven track record. From manufacturing aluminum rolls & coils to ACPs they export across the world.