August 13, 2018
Laminates for your home
,
,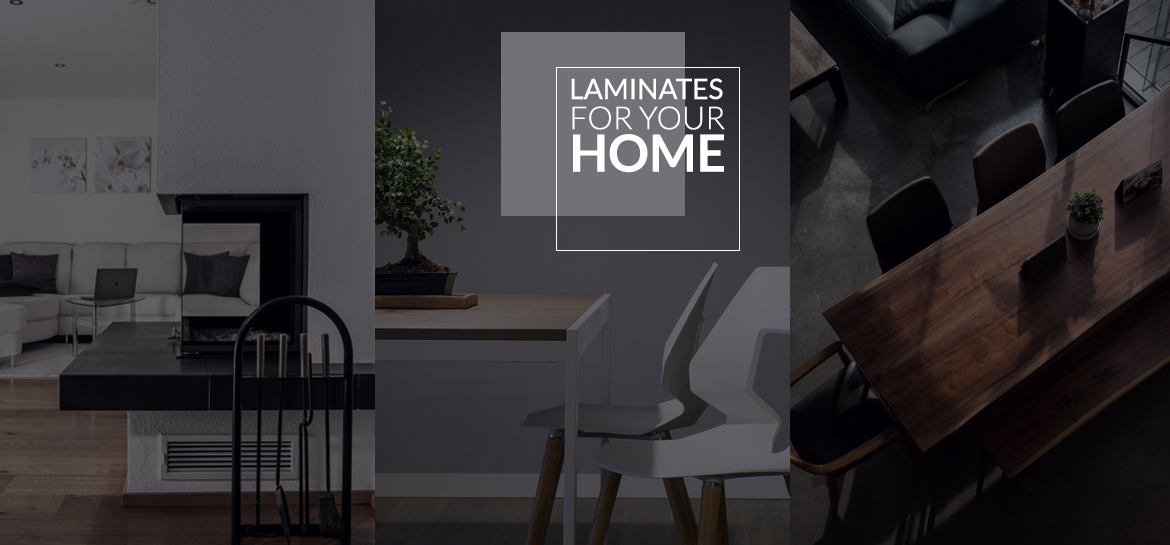 Laminates for your home
Aesthetics and beauty play a vital role while decorating homes, offices and other spaces. During the process of decoration, we come across several options in terms of designs and materials. Today we are going to talk about one such option, which not only offers a striking look to your place but also accords plenty of colour and design options to play with. Let's begin with the primary question:
What is laminate?
Laminate is a composite material with a thickness of around 1mm manufactured with a blend of paper and resins. Essentially, laminate is an imitation of wood with an image of wood reproduced on the paper creating remarkable designs for any surface. These decorative laminates are then incorporated upon the substrate, mainly plywood, to offer eye-catching surfaces that have multiple uses these days.
Why Laminate?
The term laminate refers to the process that provides us with a product with plenty of qualities that have presented the world of architecture with a new perspective.
A sheet of laminate when applied to a surface offers low maintenance and high durability. Laminates are heat and scratch resistant, are waterproof, and are thus easier to care for, which usually helps them retain their look for years.
Laminates, while giving a great finish to a project, is actually quite budget-friendly and easier to produce as compared to their alternate options.
When it comes to style, these sheets render a plethora of options in colour, texture and patterns lending a distinct look and feel. If you are planning to create something different from usual, laminates have a large set of picks.
When furnishing big spaces or commercial spaces, this versatile product is definitely better suited as they are mass-produced thus costing less while providing your space with a contemporary and luxurious outlook. They are fuss-free and easy to maintain, thus far more capable of handling the wear and tear of workstations.
Laminates depending upon the one taste is available in a wide range of colours, patterns and textures. Based on the surface finishing of the sheets, laminates can be classified as wooden finish laminates, floral patterns, solid colour, gloss finished and matt finish laminates. One can choose from an assortment of patterns including marble finish, fabric finish, and glitter finish etc, as well as based on grains and appearances such as oak, pine, walnut and many more.
With the help of special chemical treatment, laminates available these days delay temperature rise, thus making them effective for spaces such as kitchens and other public centric areas like multiplexes. Also, with its easy availability, and in such a wide range, laminate sheets can be cut and applied in various shapes and sizes assuring minimal wastage. Let's have a look at how effectively and extensively laminates can be used to embellish your place:
Home furniture: Laminates are commonly used in various furniture items such as tables, beds, sofa, stools etc. giving a modern twist to your home décor.
Shelves and doors: Applying laminates to wall shelves in the bathroom, kitchen or bookshelves is yet another way of adding elegance to your personal space. Laminates can bring an ordinary door to life, blending with the interior of your space.
Wall linings: Highlighting the walls is a new way to enhance the look of your home or commercial space. With plenty of colours, textures and patterns available, one can accentuate the look of otherwise boring walls and even ceilings.
Commercial uses: These days, laminates are quite a popular option when it comes to designing commercial spaces. From creating office partitions to lift linings, store fittings, displays, and even to give a classy look to regular cubicles, laminates are being used extensively.
Lending an ethereal touch to any surface, these laminate skins are a cost-effective, durable and versatile option to decorate your home or office space. Plus, laminates are easy to maintain and can withstand heavy-use settings. Consult your architect to know the best available laminate that will suit your pocket as well as your taste.
For stylish and sophisticated makeover for your home or workspace, Virgolam offers more than 400 different designs and 32 different finishes to select from. To keep up with the changing market trends and to be at the top of our game, we launch our new designs at regular intervals. For more innovative designs and ideas check out our website www.virgolam.com