May 24, 2021
How Virgo ACPs Prevent Spreading Fire In Modern Buildings?
,
,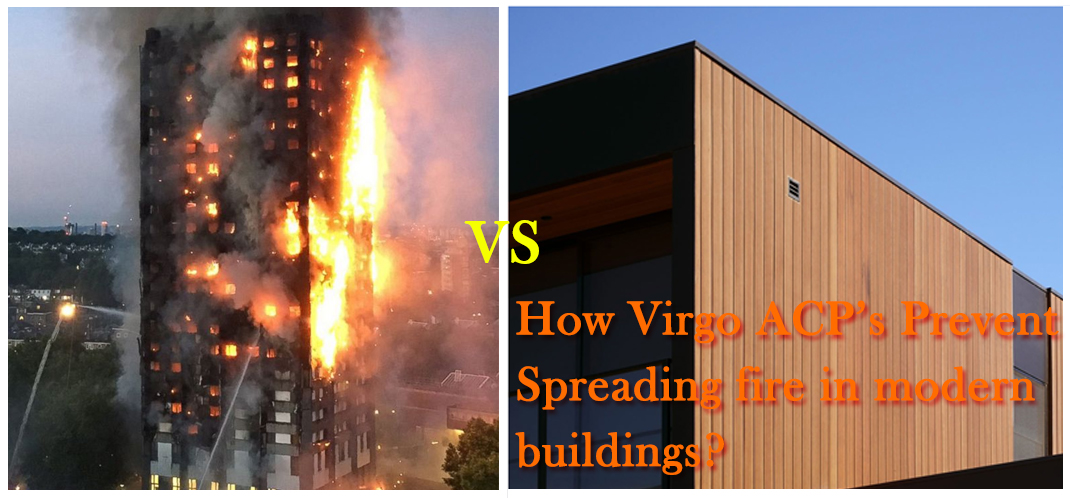 There is nothing better than being safe than sorry as per the adage coined hundreds of years ago by 'Rory O' More, the Irish Novelist Samuel Lover (1797-1868).
And, he was not wrong. It has been proved thousands of times earlier also.
When this comes to constructing buildings and structures, it got more profound as they are constructed for once and dwell hundreds of people. Even a single flaw gets exponentially propagated to add hundreds of miseries and troubles in the daily life of its inhabitants.
The rectification after construction is neither feasible nor economical. Even if attempted, it does not come out the way it should have come up even at a double and triple cost.
Therefore, it is advisable to go for the best design, the best material and the best installation for the first time itself without leaving anything to chance. Virgo ACPs are manufactured, keeping the same values and principles in mind.
The worst thing to happen to a building besides collapse is to get engulfed in fire, turning it to ashes. All structures and buildings are vulnerable to fire breakouts, which cannot be denied but can be prevented by adopting better designs, better planning, and construction utilizing better fire-retardant materials like Virgo ACPs.
The fire-retardant materials can drastically cut down on the losses by preventing the fire from spreading further. These materials help to contain the fire in a limited area by infusing a resisting environment that resists its spread and facilitates smooth rescue operations to save lives and property.
The Virgo ACP Panels, manufactured in the state-of-the-art plant on the latest computerized machines with duly tested world-class raw materials have become the first preference of the engineers, architects, interior designers and construction contractors, who settle for nothing but the best buildings and structures across the world.
These panels are rugged, robust, lightweight, safe, durable and user-friendly to install quickly and firmly without much intervention or supervision. Among hundreds of other USPs, they are best known for their fire-retardant attributes and fire prevention properties.
Being available in thousands of colours, hues, shades, textures, patterns, finishes, and designs, they suit all themes, imaginations and desires to come out with the same ambience one is looking for.
Here we are sharing why Virgo ACPs are a better choice than the rest of the ACPs available in the market. The various USPs of Virgo ACPs, which has made them the most preferred ACPs when it comes to preventing fire spread in modern buildings are as follows:
1.) Toxic Gas Free –  The Virgo ACPs do not produce any toxic gas and are entirely safer from them. Most of the deaths and other causalities during building fire is not the fire but the toxic gases that are released during the fire. These toxic gases not only choke the environment by releasing chemicals that are fatal to inhale but also blur the vision delaying rescue operations, preventing people from escaping from the buildings besides delaying helping aids reaching them.
2.) Suppresses smoke – The Virgo ACPs release less smoke during the fire in addition to suppressing it from spreading further. Less smoke keeps the vision clear and aids people in rescue operations as well as people escaping from the building.
3.) Molten Flaming Droplets Free – One of the most significant troubles during a fire is of the molten flaming droplets that come out of the panels or other materials and further worsens the situation by adding to the fire spread besides adding to the miseries of the trapped people. Virgo ACPs are droplets free and prevent the fire from spreading to the surrounding areas.
4.) Releases Less Heat – The Virgo ACPs releases minimum heat during fire and thus help to prevent the fire from spreading further in addition to helping in its fast extinguishing.
5.) Non-Combustible Core – The Virgo ACPs firewall is a perfect mixture of magnesium hydroxide (MDH) and Polyethylene. The magnesium hydroxide is a non-halogenated material that has a high decomposition temperature and delays the polyethylene transformation from being becoming solid from plastic up to the temperature of 360 degrees Centigrade, its ignition point by releasing a tremendous amount of water, which also aids in bringing down the temperature.
6.) Prevents disintegration from the façade – The Virgo ACPs do not come out of the facades on spraying water by fire-tanker spray hoses while combating fire, unlike other brands ACPs that come out because of water spray pressure and results in collapsing of the complete structure.
7.) Low Thermal Conductivity – Virgo ACPs low thermal conductivity along with the best pyrolysis, which stands for chemical degradation when subjected to fire allows it to be used as a stable structural element that does not get deteriorated under fire.
The Virgo ACPs strictly follow the fire prevention rules and regulations in addition to abiding by other fire regulatory norms and specifications related to buildings and structures safety. They are made up of quality fire-retardant material duly inspected and tested for their fire-retardant properties along with other quality aspects of strength, durability and endurance.
Conclusion – In the light of the above one can confidently rely on the Virgo ACPs and can secure their buildings from fire hazards, which may even arise from the fire spreading from the nearby buildings also besides their getting flamed from inside by some small fire or electrical short-circuit.
They prevent fire and provide better fire control besides facilitating fire rescue operations. Not only this, they significantly bring down the operational and maintenance cost of the building. And, above all these ACPs are economical to install, easier to clean and tension free to maintain.
The Virgo ACPs add to the ambience and aura of the buildings while providing them with a natural look and enhancing the fire-resistance, air quality, hydration, and an amazing environment to its surroundings.
Virgo – Virgo, an established group, manufactures world-class ACP products with the latest cutting edge technology at their state-of-the-art manufacturing plant using the world's best aluminium coils and rolls besides using best fire-retardant material to make their ACP panels robust, sturdy and rugged to face the harsh environment while providing a great ambience and aura to the structures during their lifetime.
The Virgo Aluminium composite panels are renowned for providing timeless beauty to the old and new buildings, roofs, signages, and at many more places whether they are hotels, offices, residences, complexes, schools, universities, hospitals, clubs, recreational centres, or others. Their panels are grossly used in architecturally designed, attractive and eye-catching green facades to make the buildings stand out of the crowd and make their mark.