May 15, 2021
How To Clean ACP Sheet Exteriors
,
,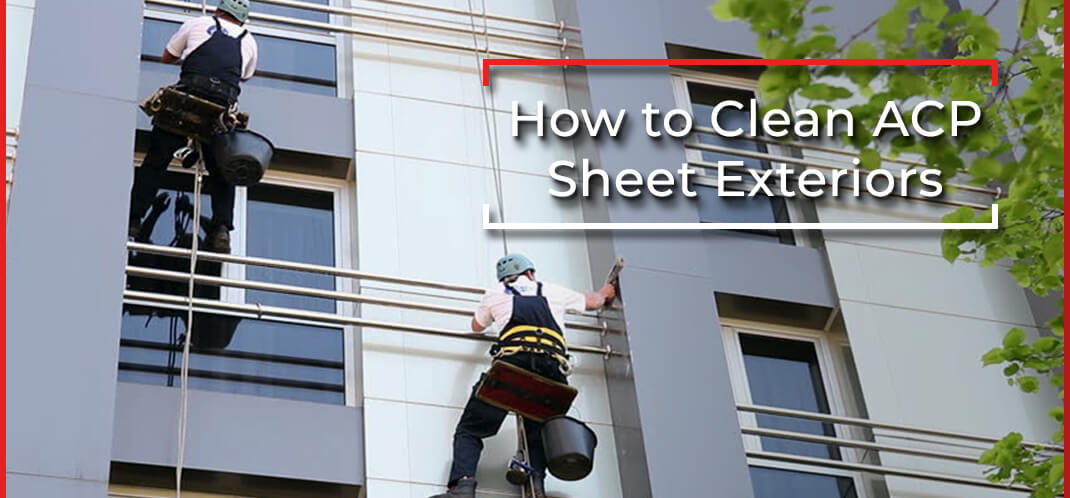 Can we even imagine an Urban Cityspace without the high rise buildings with different high-tech designs and aesthetic modern Architecture? But do you know, what makes many of these buildings look exquisite? It's ACP, "the Aluminum Composite Panel" which clad such high rise buildings to beautify their exteriors. The ACP exterior facades are a common sight in any city & that is because of the benefits that ACP Panels bring with them. ACPs are the exterior cladding materials that are intended to last long & inclined towards elongated durability, provided these are maintained appropriately.
The building exteriors get constantly exposed to pollution, acidic rainwater, dust, and other environmental factors that can degrade the appearance of the ACP sheet clad over buildings, and consequently, your building exteriors may begin to appear dull. But not to worry as ACP Sheets require low maintenance and these can be brought back to their radiant selves with regular cleaning and maintenance. Let Virgo Group experts elucidate some best tips for cleaning and maintaining ACPs properly.
What is the Need for Cleaning the ACP Sheet?
Regular cleaning maintains the representative finish of ACP sheet surface as well as maintains their quality through the removal of aggressive deposits & dirt. Cleaning intervals may depend on local environmental conditions but whatever the time interval is, surfaces should be cleaned either manually or with some cleaning device from top to bottom. You must try not to use any abrasive pads on lacquered surfaces but you need to use suitable cleaning agents only. The use of any powerful alkaline cleaning agents e.g. potassium hydroxide, any powerful acidic products or sodium carbonate or caustic soda, or heavily abrasive scouring agents such as vim, lime, or lacquer dissolving cleaning agents are strictly prohibited because they may destroy the look and shine of ACP Sheets.
Some Cleaning Tips for ACP Sheet:
As we have already discussed above that cleaning is an important step to prolong the shelf life of the exhaustive range of ACPs by Virgo Group. Moreover, regular cleaning also ensures that the lustrous look of your building exterior remains intact. Let's discuss some important tips to clean ACP Sheets:
Gentle Cleaning
For gentle cleaning, first of all, you must try water rinse using a soft sponge with a lower level of pressure for removing the stain. If the stain still remains then you can try using some neutral detergents diluted with water, the panels which are made with ACPs might also accumulate dust and other aggressive deposits. These kinds of dust & dirt particles can be washed off with water only.
If the stain is stubborn then you need to use some kind of mild soap solution and a soft cotton cloth to wipe it off. You can use any detergent that can be diluted with water and has a pH level of 8. To finish off, you should wash it with clean water and then dry it off with a non-abrasive cotton cloth. One tip to keep in mind is that: ACP panel should be cleaned at optimum temperature that means at the time when there is not too cold or too hot because extreme temperatures can make the surface dry quickly and with the dirt retained.
The Procedure of Cleaning the Following Steps
At first, dilute a detergent or a mild cleaner in the ratio of 1-5% with clean water.
Apply the mixed solution on ACP Sheet and spread it on the surface with the sponge.
Then you need to wait for one minute till the moment the foam will get blacken.
In the next step dry the solution with a squeegee and wipe off the reaming solution with a wet soft cloth.
Before trying any detergent you need to pre-test it in a small area, before applying it to the whole area.
Make sure that cleaning sponges are grit-free if you want to prevent scratching the coated surface.
You need to avoid over-cleaning or rubbing in order to maintain the shine of ACPs intact.
Final Takeaway…
ACP Sheet Panels are coated with paints which can come off if some harsh cleaning agents are used to clean the surface. Therefore, it is strictly advised not to use abrasive scouring mixtures to clean ACP panels in order to prevent corrosion. So, it was our simple guide to how to clean the ACP Sheet & by following these steps, you can easily take care of ACP Sheets in the best way and make sure that your exterior or facade will shine through, years after years.