May 24, 2021
Facelift Your Structures With Virgo ACPs
,
,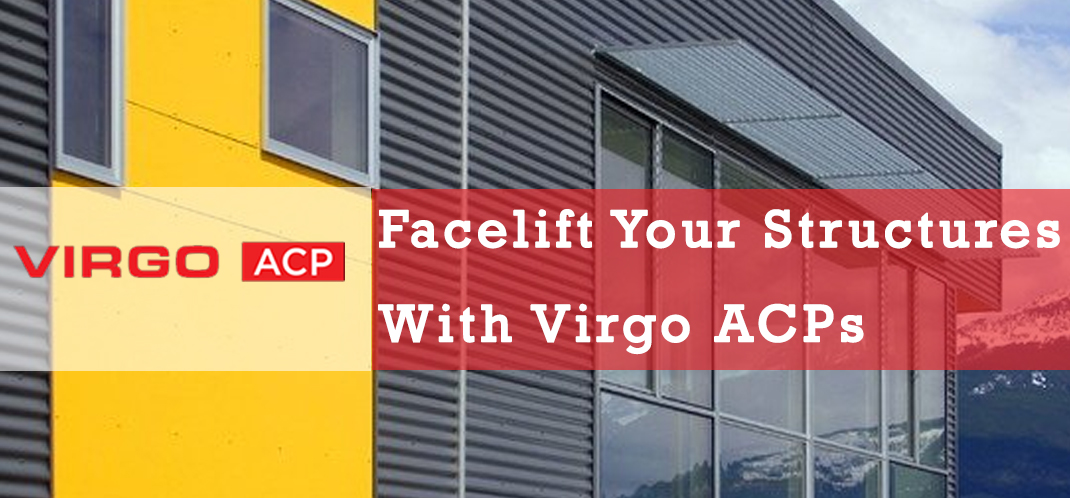 Ever wondered what would have happened if all the buildings and other constructions start speaking all of a sudden one day. Yes, it will be an amazing miracle to see all the buildings talking on their own, expressing their attitude towards visitors and gratitude towards their admirers. So, get excited, feel pampered, and be over the seventh heaven as the desperate wait is over. Virgo Aluminium Composite Panels (ACPs) have arrived to take centre stage by a storm to make the exteriors and interiors of your building engulf in a new ambiance and a vibrating hue of colours, shades, and textures to express your style, attitude, culture and heritage besides your esteemed values and principles. Before we explore further, let us slow down a bit to let you know what all are these ACPs about.
What are these ACPs all about?
Way back in 1969, when architects were struggling with bricks, concrete, wood, and steel to create beautiful structures, there emerges a fantastic ray of light that gifted the architectural world with innovative Aluminium Composite panels. These panels use aluminium as their main ingredient and changed the entire spectrum of skylines and make them flaunt with grace and elegance in different hues of the rainbow. The ACPs are flat panels that comprise two thin coil-coated aluminium sheets, which are usually bonded over a non-aluminium core, which is generally of thermoplastic material like polyethylene. They are very used widely in exteriors and interiors of buildings for cladding, insulation, and signage. Cladding stands for covering the building façades to protect them against weather and other climatic worn-outs besides providing them with elegance, beauty, and theme to improvise their magic and appeal.
How are these ACPs redefining the architectural world?
These ACPs are inspiring architects in designing spaces creatively and intelligently, making them more spacious, useful, productive, beautiful and live to let engage occupants with the surroundings and make them feel excited to be the part of it and perform exuberantly many folds more than that they used to do earlier.
What are the other properties of ACPs, which have made them so useful?
These ACPs are lightweight, fire-resistant, waterproof, easy to install, flexible, compressible, friction and abrasion resistive, and comes with an incredible low thermal conductivity that helps to maintain required temperature levels inside the buildings without getting them affected by the interference of the surrounding environment. They significantly enhance the so much desired attributes like looks, intimacy, freshness, and natural ambiance of the living spaces. And above all, they are easy to install, requiring ordinary skill, average intellect, and close to no supervision. A day or two of training is sufficient for a novice to install them. Their maintenance, renovation, and refurbishment are equally simpler and convenient as they are scalar and modular in approach and can be easily maintained. They can be designed and manufactured as per one's desires, themes, dreams, and imaginations depending upon the quantum of requirement. Otherwise, they are available in thousands of different colours, shades, and variants to select from and make one paint one's dreams, weave thoughts, and let one live in the ambiance one wants.
How are ACPs contributing to creating spacious spaces?
As ACPs protect buildings against external environmental impacts and prevents the structures from being coming in direct environmental impact, they allow engineers and architects to build fewer strength buildings by incorporating less mansion work, fewer beams and columns, thin walls, and other hanging structures. It makes the structure provide more internal space to be used by the occupants. Additionally, it allows for several plug-and-fit, lightweight, and folding structures that add to much feasibility and flexibility for the occupants to utilize space for their use and specific utilities without incurring more on the structure. A kitchenette from a featured wall beside a common meeting and social space, small space living spaces with lightweight drawers and tables, day-light charming cabins, additional rooms with freshness and enough natural light, and many other such new ideas and creations are dominating the architectural landscapes with these ACPs.
How are these ACPs helping in commercials?
On the one hand, these ACPs lead to a substantial cut in the cost while, on the other hand, they make buildings live longer and that too with just little maintenance. ACPs amazingly add to the warmth and ambiance of the buildings besides making them visible and look intelligent by incorporating and adopting the best engineering and architectural practice to explore green building features and utilize naturally available resources at hand. They lead to less operational costs owing to their low thermal conductivity and save vastly on electricity as well as other power bills. Conclusion – The Aluminium composite panels have a lot to offer on aesthetics, ambiance, and cost. One should immediately switch over as they can be easily installed with equal ease in old and new structures without much effort. The wisdom lies in availing fruits and drawing benefits from the latest and innovative architectural concepts that are going to redefine the near future. They add on buildings life, cut on cost, improvise on space, do engineering on safety, enhance on the aura, intensify on warmth and protect against fire, and one cannot afford to resist them, ignore them, or set them aside. They have become more of a utility and are no more a luxury for the affluent few. The Virgo ACPs add to the ambiance and aura of the buildings while providing them with a natural look and enhancing the fire-resistance, air quality, hydration, and amazing environment to its surroundings. Virgo – Virgo, an established group, manufactures world-class ACP products with the latest cutting edge technology at their state-of-the-art manufacturing plant using the world's best aluminium coils and rolls besides using best fire-retardant material to make their ACP panels robust, sturdy and rugged to face the harsh environment while providing a great ambiance and aura to the structures during their lifetime. The Virgo Aluminium Composite Panels are renowned for providing timeless beauty to the old and new buildings, roofs, signages, and at many more places, whether they are hotels, offices, residences, complexes, schools, universities, hospitals, clubs, recreational centres, or others. Their panels are grossly used in architecturally designed, attractive, and eye-catching green facades to make the buildings stand out of the crowd and make their mark.