February 5, 2019
Be Spoilt for Choices with Our Wide Range of Mica Laminates Sheet
,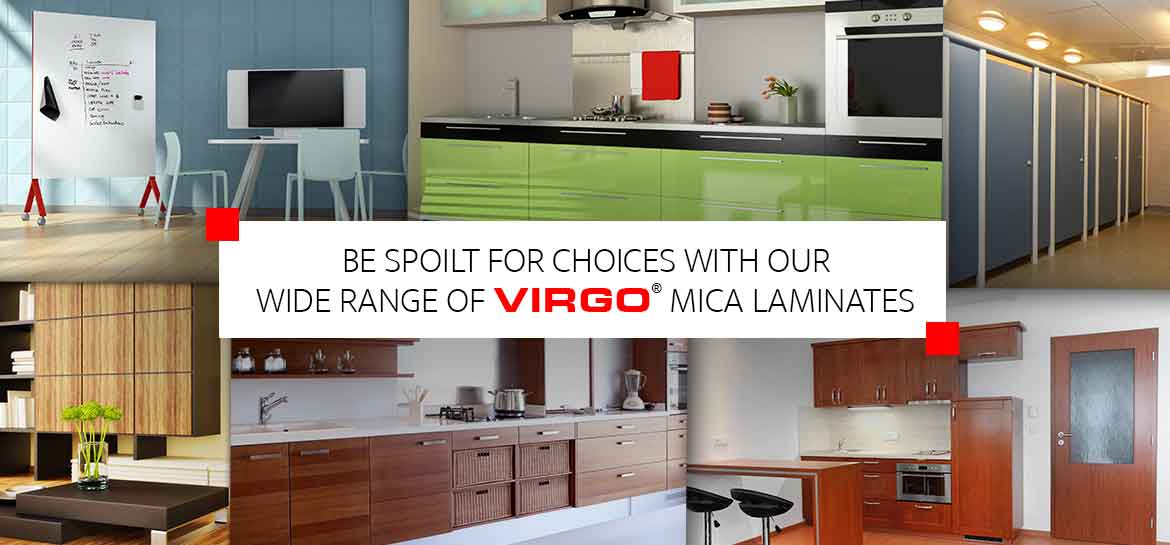 Virgo Mica Sheet is used extensively for. Mica laminates are used as surfacing materials when designing cabinets, wardrobes, and exterior cladding. They mimic natural materials like wood and stones. Hence, they are commonly used as a good option. Unlike wood and stones, they are easy to maintain and offer easy installation with much effort.
Varieties of Virgo Mica Sheet
The mica laminates mimic natural brick, wood, marble, and granite. They are available in a lot of colors, patterns, designs, and textures. While laminate is a common concept in the western countries, in India and Asian countries, it is used in combination with plywood as a surfacing material for aesthetic appeal. The Virgo Mica Sheet for plywood is very thin and flexible so that the required designs can be created. The PVC laminate and are the variations from the traditional mica laminates.
Size: The mica laminates vary as per the size. The thinner Virgo Mica Sheet is preferred for the inside lining of wardrobes or kitchens. The slightly thicker ones come in the range of 1 mm thickness. This Virgo Mica Sheet for plywood is widely used as surfacing material in the exterior of the wardrobe and furniture so that it adds to its aesthetic appeal.
Design: The Virgo Mica Sheet come in thousands of colors and patterns. They look similar to natural stone and wood. Many come in beautiful patterns.
Finish: The Virgo Mica Sheet also comes in varied textures like the high gloss, matt finish, leather, veneer finish, 3D finish, suede finish, and so on.
Material: There are different Virgo Mica Sheet that varies slightly in the components. You have and the PVC laminate. The is a high-gloss and non-toxic reflective laminate. They are super flexible and bend to up to 90 degrees. Even they have a high-gloss level and are available in different colors.
Why Is the Virgo Mica Sheet for Plywood Preferred?
The Virgo Mica Sheet for plywood is the most popular surfacing material. The Virgo Mica Sheet for plywood comes in the thickness range of 0.8 to 1.5 mm. After building the wardrobes, cabinets, tables, and furniture with plywood, the carpenter selects the appropriate mica laminates. It is then glued on the plywood to give it an aesthetic appeal. The Virgo Mica Sheet gives a classy look to the interiors. Also, they safeguard the plywood from water and heat. Any stains on them can be wiped easily. They are preferred as a covering to the plywood because they are easy to maintain and add to the shelf-life of plywood. With plain plywood, you would need to polish its surface many times. But with Virgo Mica Sheet for plywood, you need to not care about polishing the surface. The Virgo Mica Sheet retains its color and texture for its lifetime.
Benefits of Using Virgo Mica Sheet
They are easy to install
They provide hassle-free maintenance
They are affordable
They come in a variety of designs, textures, and patterns.
They are moisture-resistant.
They can be installed on any existing.
They are scratch-resistant
They do not require any polish or paint
They are durable
Virgo Laminates are the Popular Choice in Virgo Mica Sheet
Our Virgo Group manufactures mica laminates in thousands of designs and patterns. You can conveniently choose from scores of available patterns and colors that suit your design requirements. Our mica laminates have a long life and are affordable. Our Virgo Group has been at the forefront of manufacturing a top-notch Virgo Mica Sheet that has delighted the customers enormously. We take pride in the fact that we are the preferred choice for millions of homeowners, who have relied on our Virgo Mica Sheet for durability, beauty, and affordability.
With the unremitting support of our customers, we continue to grow from strength to strength.