May 24, 2021
Are Virgo Rain Screens A Must?
,
,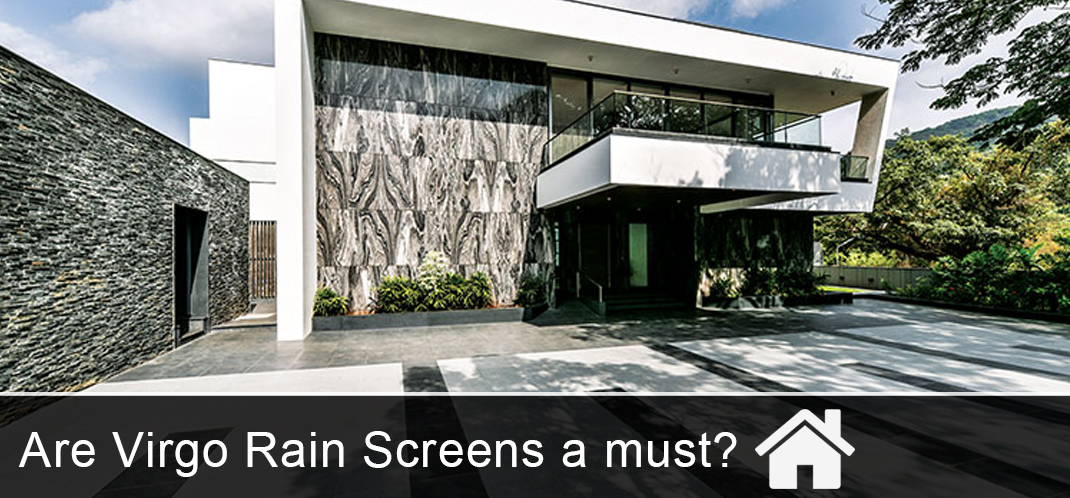 Environment and atmosphere besides climate and weather have direct impacts on all civil structures, whether they are residential, commercial, or industrial. The life of buildings is directly proportional to the type of harsh conditions they undergo like rains, wind, sunshine, snowfall, temperature, dampness, etc.
Thus, if we can control the external environment the buildings are subject to, we can manifold extend their life. We can provide buildings with a dry environment, moisture-free atmosphere and splash-free monsoons, to assure their significant longevity beyond imagination.
But how can we do so?
Safeguarding buildings from deteriorating environmental impact is no more a difficult task as the latest innovative technologies have come out with several effective methods to protect them against harsh weather conditions including continuous dampness, wet surface, incessant rains, sunshine, and extreme temperatures.
The building structures can sustain for years if we can ensure their dryness and timely maintenance on a regular basis without making them subject to wear and tear because of harsh weather conditions.
What shall we do?
We can install Virgo Rain Screens on the exteriors of our buildings to not only protect them and extend their life but to also drastically cut on their maintenance and operational costs.
What is a Rain Screen?
A Rain Screen is an additional layer added over the exterior wall with an air barrier in-between which allows for drainage, dry ups and evaporation of the moisture and dampness soaked in the structure to protect it from wet environment, dampness, moisture, rains splash and other detrimental environmental factors that are innocuous to the aesthetics, strength and life of the buildings.
What are the Advantages of Virgo Rain Screens?
Virgo Rain Screens are light-weight and time-tested rain screens that are trusted by millions across the world owing to their world-class quality, superb performance, quick installation and many other factors. And that too, at an unbeatable price. They have an unblemished track record of continuously performing for years without fail in different geographical and environmental terrains.
Here are a few of their USPs that set them apart from the rest of other rain screens that may imbibe them in colour and shape but are miles behind in quality and performance.
1. ) Rain Screens with Least Maintenance- The Virgo Rain Screens are known for their least maintenance among its other peers from different brands owing to the use of world-class superior raw material, innovative designs, and computerized manufacturing with latest cutting-edge technology. Their robust structure and rugged build, which provides it with extended life and close to zero maintenance with nil operating cost.
2.) Light in weight to reduce weight loadings – The Rain Screens are added on a different structure erected close to the building. As the Virgo Rain Screens are lighter in weight, they can be added on comparatively lighter structures without demanding for any heavy-duty, rugged or robust structure that costs much occupies more space and is an expensive proposition.
It also facilitates to have light-duty mansion work in the main building resulting in a cost-saving on material, labour and time besides providing more interior space to the occupants owing to the thinner walls and fewer columns.
3.) Ample accessibility to the buildings for better services- The Virgo Rain Screens are easy to install, remove and reinstall without damaging off the cladding structure because of any wear and tear of the fittings, which usually happens in other brands rain screens where every removal of the panel results in slight damage to the structure.
It leads to easy maintenance and re-innovation of the structure as it allows easy removal of the individual panels for servicing. Secondly, it also provides enough access between the building structure and the Rain Screen cladding structure, thus allowing it to perform building repairs and other maintenance works.
4.) Low Thermal Conductivity to improve on thermal performance and cut operating cost- These Rain Screens bears minimum thermal conductivity and help to build interiors that maintain their temperature without being affected by the external surrounding temperatures. It provides exuberant daily savings on the operational and maintenance costs of the buildings.
Rain Screens provide a dual-layer to the buildings with an air gap between them, which acts as an insulator to heavily improvise on the thermal performance of the buildings leading to improved building efficiencies.
5.) Enhanced aesthetics without extra effort and cost- Aesthetics are the most crucial part of any building, whether residential or commercial or even industrial. Looks are important for all and do matter when it comes to ambience, aesthetics and aura it infuses in the surroundings and the minds of the inhabitants.
Being designed to taste with latest innovative designs and patterns in all hues, colours and shades, they provide structures exciting looks beyond imaginations besides providing them strength and elongated life by saving them from the deteriorating effects that happen because of wind, air or sun.
6.) Designed to defy Gravity- Designed for defying gravity the Virgo Rain Screens remains intact for years as the environmental conditions and other atmospherically impacts are bare minimum over them making them look as new as just installed a day before, even after several years.
They are engineered to remain light in weight without affecting their other essential attributes for which they are known for. From overhanging canopy to parabolic curve, and from gouged-out aperture to uniquely designed erratic structure, they perfectly suit all without showing any stress or ageing over them.
7.) Minimum disruption from over-cladding- The Virgo Rain Screens are designed to avoid noise and trouble in the system and prevent any apprehension of overdoing or over-cladding that not only makes the system bulkier and more difficult to maintain but also add to the cost leading to drainage in client's pocket. These rain screens are engineered to maintain minimum disruption by adopting latest innovative technologies to use minimum raw material and provide maximum mileage on several accounts like life, aesthetics, maintenance, economy, installation time saving and much more.
They are known for their quick adaptability and easiness in refurbishing the old buildings also and can fit all structures or least with minimum changes defying all needs of demolishing the building or going for some significant change that may lead to any hole in the pocket.
8.) Simpler and quick to Install- These Virgo Rain Screens are designed, keeping in mind the ease of installation to be easily installed by even novices after a little training and without any supervision.
They are engineered and designed to get fit in a single attempt without giving life a struggle. They are tested to provide with a perfect fitting in the cladding structure in the very first attempt itself, without leaving any scope of hit and trial at the site to prevent any time wastage, which probably results in delayed installations.
9.) Economical to suit all budgets- The Virgo Rain Screens are significantly economical and are reasonably priced to make them the most exciting and lucrative rain screens available worldwide. They are manufactured in various versions to suit all budgets and needs. They are fit to cater to a wide range of geographical and environmental conditions which generally varies from area to area depending upon the area's harshness scale.
10.) Long-Lasting- These Virgo Rain Screens are designed and built to last longer by utilizing the best raw materials available across the globe and by manufacturing them in the latest manufacturing setups as per the trusted and reliable technology.
They are considered as the most sustainable rain screens to safely bear the toughest environmental harsh conditions and the worst of the inclement weather.
They are highly resistant to moisture and wet conditions.
Conclusion- In the light of the above, we can conclude that Virgo Rain Screens are the panacea for all civil constructions and buildings without any if and buts. They are a must for all buildings that look forward to an elongated life, at a minimum cost and at about nil maintenance, in addition to a drastic cut in operational cost.
They are economical, easy to install, provide the better thermal performance along with adding to their aesthetics and over-all outlook.
The Virgo Rain Screens are unmatchable rain screens that are just unbeatable on price, quality, life, ease of installation, operational savings and maintenance cost. The wisdom lies in going for them today, without fail, if yet not gone for.
Virgo- 
Virgo, an established group, manufactures the world-class ACP products with the latest cutting edge technology at their state-of-the-art manufacturing plant using the world's best aluminium coils and rolls besides using best fire-retardant material to make their ACP panels robust, sturdy and rugged to face the harsh environment while providing a great ambience and aura to the structures during their lifetime.
The Virgo Aluminium composite panels and Rain Screen Panels are renowned for providing the timeless beauty to the old and new buildings, roofs, signages, and at many more places whether they are hotels, offices, residences, complexes, schools, universities, hospitals, clubs, recreational centres, or others. Their panels are grossly used in architecturally designed, attractive and eye-catching green facades to make the buildings stand out of the crowd and make their mark.