February 8, 2021
Are Virgo ACPs A New Technological Breakthrough To Tilt The World?
,
,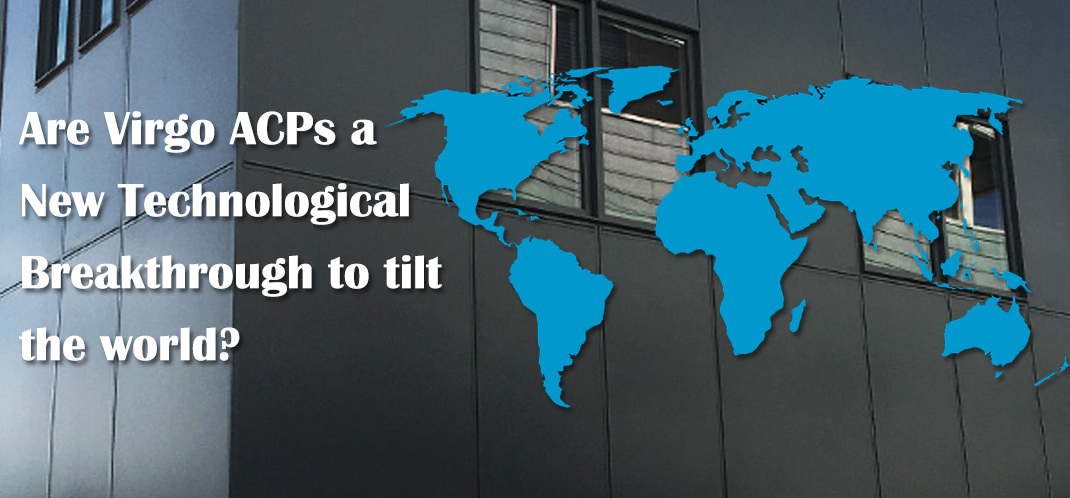 The Virgo ACPs are going to change the lives of the tens of thousands of buildings and structures surrounding us not because the Aluminium Composite Panels are a technological breakthrough but because the concepts, the designs and the durability they are introducing into the world is just impossible to resist by even a single person. Yes, the Virgo ACPs is a new technological breakthrough to tilt the world. They are here to change the entire spectrum of the world outlook by giving it an amazing facelift beyond imagination. Arthur C. Clarke was amazingly incredible when he said, "Any sufficiently advanced technology is equivalent to magic." And, Virgo ACPs have proved it beyond doubt.
What are ACPs meant for?
The ACPs are primarily innovated for more than one reason. They are durable and cost-effective in addition to being lightweight, easy to customize and everlasting besides being fire-resistive. They are primarily meant to provide buildings and structures with an appealing aesthetic look besides protecting them from the deteriorating environmental and atmospheric impacts that gradually decay them and results in their premature collapse. These ACPs prevent the buildings from coming in the direct impact of rains, moisture, dampness, sunshine, heat, wind pressure and other sources that slowly weakens the structures and make them live short. They additionally provide them with enough space between the actual structure and the cladding to let them dry in case of being ever getting wet. ACPs, further let the buildings be designed with less bearing strength and less mansion material as the wear and tear including abrasive effects drastically got reduced to a great extent after installing them.
How ACPs help old structures?
ACPs are a great boon for the old and deteriorating structures along with dilapidated buildings. They can infuse a fresh breeze of life in them by altogether providing them with a perfect new look and that too without making them break their banks. The ACPs are installed on another structure along the walls that encapsulate the entire building and protect them from harsh weather conditions on the one hand and provides them with a completely new look and theme, on the other hand, depending upon the design and the pattern one chooses.
What exactly are these ACPs?
ACPs are flat panels that comprise two thin-coil coated aluminium sheets bonded to some other non-aluminium core. They are primarily used in external cladding or facades of buildings, their other insulations and other signages.
The Aluminium Composite Panels (ACPs)
Aluminium Composite Panels are one of the most popular sustainable materials used across the globe for the building construction industry. They are superior quality, lightweight cladding which offers style and variations, widening the options available to the many builders and architects. ACPs are sandwich panels that consist of two aluminium sheets bonded to an organic mineral-filled inner core material that varies from both high and low density and FR grade. These panels are durable, cost-effective, safe to use and undemanding with easy installation.
What are a few of the advantages of ACPs that make them a breakthrough to tilt the world?
The ACP panels are here to change the world and redefine how it thinks, ideates and implement when it comes to building exteriors and interiors. Here we are exploring a few of the significant advantages of ACPs that have made them a technological breakthrough:
They are the most economical cladding options available around the world and are about to redefine the way cladding is done nowadays and earlier.
Besides being lightweight, they are surprisingly durable, fire-resistant and have low thermal conductivity.
They are easy to install and can be installed with no supervision and with a minimum of training even to an unskilled person.
These panels are rugged, unbreakable, and can be easily repaired within a small confined area without disturbing the entire structure.
They are hassle-free to use as they can be easily cleaned without utilizing any specific method or technology. One wipe is enough for them,
These panels have excellent sound insulation and prevent outside noise and unpleasant sounds from entering buildings.
These panels are entirely customizable to give any shape, form, color and pattern. Imaginations are no more a limitation for them. They can be cut to any size.
They can be comfortably installed in old as well as new structures with the same ease.
As they are not affected by the environmental impacts, they are close to being stainless, ageless and can suffice for decades without any decay, alteration or fadeouts.
They are universal in their applications and suits all type of structures and properties alike, like hospitals, malls, hospitals, airports, metro stations, corporate offices, residential buildings, individual residences and many more
They are suitable for the uplifting of exteriors as well as interiors and are best to reflect the occupant's heritage, culture and legacy they carry.
Conclusion – 
The Aluminium composite panels are here to swipe off the world with their elegance, flexibility and utility. They are for sure a new technological breakthrough to tilt the world by their innovative technology that has made them sound resistance, heat resistance, fire-retardant, lightweight, ageless, and the most reasonable option available with the architects, engineers, designers and individuals, who crave for nothing but the best. One should immediately switch over as they can be easily installed with equal ease in old and new structures without much effort. The wisdom lies in availing fruits and drawing benefits from the latest and innovative architectural concepts that are going to redefine the near future. They add on buildings life, cut on cost, improvise on space, do engineering on safety, enhance on the aura, intensify on warmth and protect against fire, and one cannot afford to resist them, ignore them, or set them aside. They have become more of a utility and are no more a luxury for the affluent few. The Virgo ACP add to the ambience and aura of the buildings while providing them with a natural look and enhancing the fire resistance, air quality, hydration, and amazing environment to its surroundings.
Virgo
Virgo, an established group, manufactures world-class ACP products with the latest cutting edge technology at their state-of-the-art manufacturing plant using the world's best aluminium coils and rolls besides using the best fire-retardant material to make their ACP panels robust, sturdy and rugged to face the harsh environment while providing a great ambience and aura to the structures during their lifetime. The Virgo Aluminium composite panels are renowned for providing timeless beauty to the old and new buildings, roofs, signages, and at many more places, whether they are hotels, offices, residences, complexes, schools, universities, hospitals, clubs, recreational centers, or others. The Virgo ACPs otherwise offer end-to-end ACP cladding solutions across the world for all types of structures, including both interiors as well as exterior applications. Their panels are grossly used in architecturally designed, attractive, and eye-catching green facades to make the buildings stand out of the crowd and make their mark.