January 24, 2019
Aluminum Roofing Sheets with Make Your Building Stand Out
,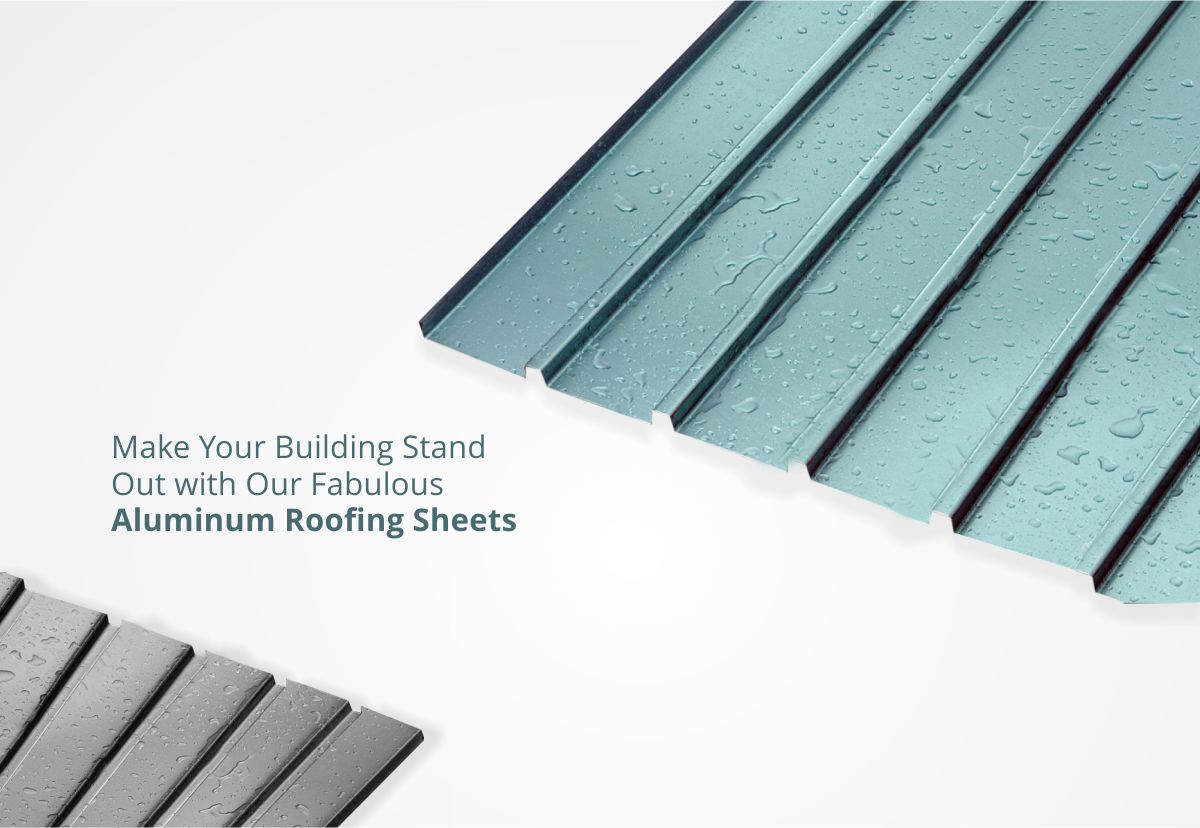 Metal roofs continue to grow in popularity. Many homeowners opt for aluminium roofing sheets for their home improvement projects. They are also the most preferred options today in industries and commercial complexes. It is friendly on the wallet and is hence extensively used due to its myriad benefits.
Aluminium Roofing Sheets Offer Multiple Benefits
Variety: You are spoilt for choices when you go with the aluminium sheets for roofing. The availability of different patterns, colors and textures make it the ideal choice for roofing options. Also, the color or texture of the aluminium roofing sheets does not fade over time. Your aluminium sheets will appear shiny and good throughout their life. Definitely, they are also aesthetically pleasing.
Environmental Benefits: The aluminium roll sheets absorb less heat than the traditional asphalt shingles. This reduces the cost of air-conditioning in summers. Moreover, aluminum is completely recyclable, making it the most environment-friendly material to be used as a roofing option.
Cost: Aluminium sheet roofs have more installation costs than traditional asphalt sheet roofs. But, if you consider the life-cycle of aluminium rolls, they far outlive the other inferior roofing materials. Hence, they are cost-efficient and last long for up to 50+ years. In short, if you install aluminium roofing sheets, there are fewer chances that you will have to install a roof again.
Light-Weight: The aluminium sheet is extremely light-weight helping in easy installation. But light-weight does not mean that it is brittle. In fact, aluminium roofing sheets are extremely sturdy and rigid.
Corrosion-Resistant: When compared to other metal sheets, the aluminium rolls are corrosion-resistant. Hence, they are the preferred choice as a roofing material as they can withstand rain, sun, and even hurricanes.
Flexibility: Owing to its flexibility, the aluminium sheet can be easily installed on the rooftops. It is easy to assemble and join these sheets and is easy to dismantle them. Moreover, the aluminium roofing sheets can be used elsewhere after dismantling without any damaging caused.
Strength: The aluminium rolls have the highest strength to weight ratio. This makes them superior to steel in strength. In addition to being strong, they are also extremely light-weight, making them the ideal choice for roofing.
Safety: Aluminium roofing sheets are non-combustible and non-flammable. They have high resistance to denting than other metal sheets, and even when compared to asbestos sheets that break or crack when heavy objects fall on them.
These benefits are good enough reasons for you to go in for aluminium roofing sheets.
Where Are Aluminium Roofing Sheets Used?
Now, let us have a look into where the aluminium sheets are used for roofing.
Commercial: The durability and easy maintenance is a boon to building owners who need not constantly worry about the roof over their head. Their common commercial uses are:
Schools
Hospitals
Offices
Hotels
Stores
Warehouses
Factories
Sheds
Residential: The residential owners have lapped up the benefits of aluminium rolls for roofing, and after installing, they save money in the longer run.
Virgo Group at the Forefront of Producing Premium-Quality Aluminium Roofing Sheets
When you are in need of high-grade aluminium sheets for your roofs, look no more than the Virgo Group. We have been the pioneers in the manufacturing of aluminium sheets and aluminium rolls. Our aluminium sheets undergo stringent manufacturing processes to achieve international standard products that win on quality. We manufacture aluminium rolls of standard thickness. We provide the customers with their required thickness of aluminium sheets for bulk orders. Come to us for, we offer you variety in choice. Get your preferred colors, patterns and textures from among our vast collection. For sure, you will be happy with our range and quality.